Are you looking for an easy, healthy (or at least healthier) version of your favorite cheesecake? I have a recipe that fits the bill! This no bake, healthy cheesecake bar recipe is an easy, healthier version of a classic cheesecake. Plus the fresh, seasonal berries make it a perfect warm-weather dessert.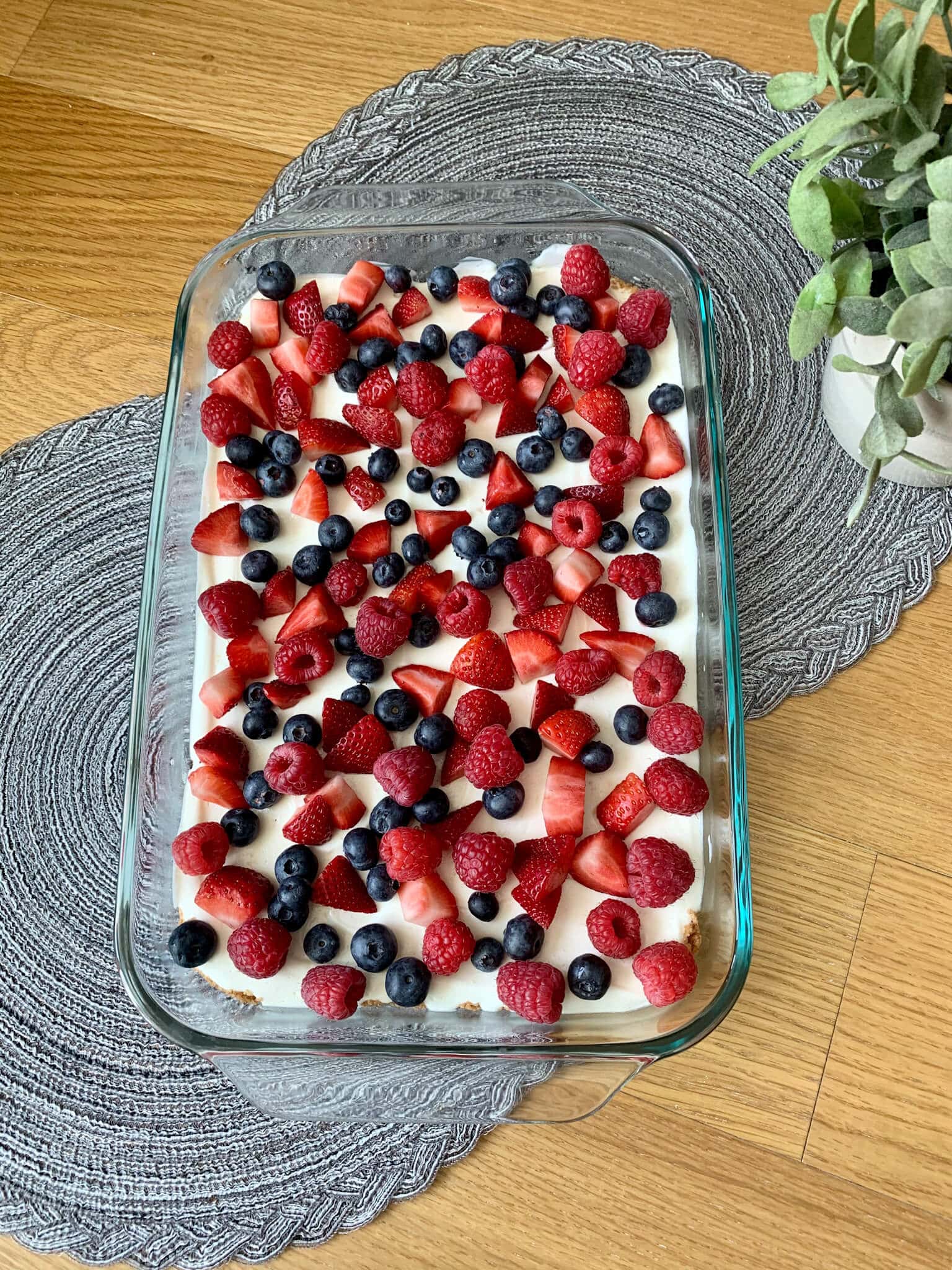 What Makes this a Healthy Cheesecake?
This no bake, healthy cheesecake calls for canola oil for the crust instead of the usual butter. Canola oil is a good source of vitamin E, which acts as an antioxidant in the body and helps protect the body against damage from free radicals. It also contains alpha-linolenic acid (ALA), a type of omega-3 fatty acids found in plants. Consuming adequate omega-3 fatty acids is essential for brain and heart health and can help protect against inflammation.
High heat cooking methods, such as frying or sautéing, can result in the loss of polyunsaturated fatty acids, such as ALA. Therefore this no bake cheesecake is an excellent solution for preserving the ALA in canola oil.
Seasonal Berries
The seasonal berries in this healthy cheesecake also pack a powerful punch of antioxidants and plant-based polyphenols- compounds found in plants that may help protect health.
Low-Calorie Dessert
This recipe is an excellent option for anyone searching for a low-calorie dessert. I used reduced-fat cream cheese and nonfat, plain Greek yogurt to create a decadent, no bake cheesecake that is lower in calories while still being packed with flavor.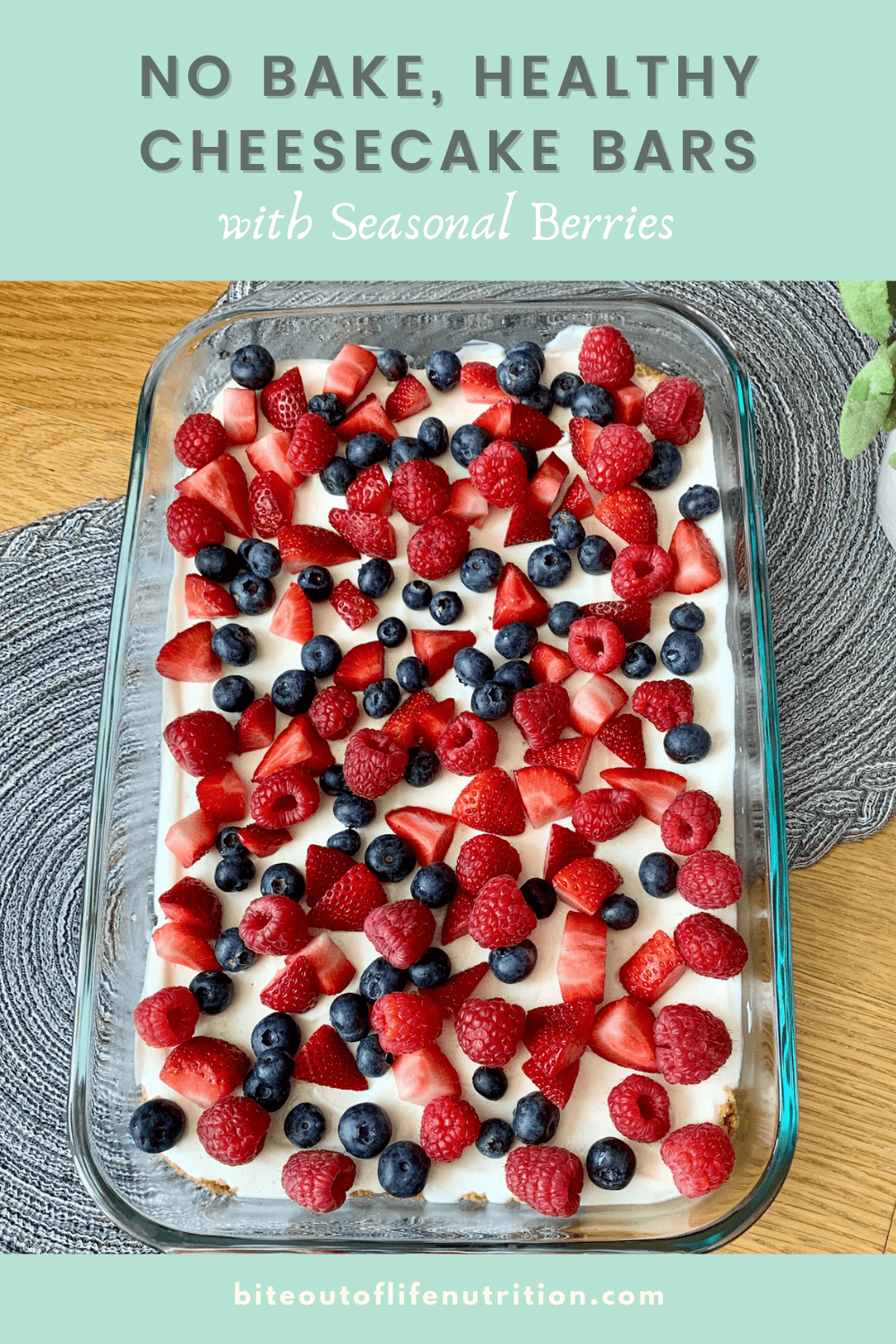 How to Make this No Bake, Healthy Cheesecake
This recipe is relatively easy to pull together. The hardest part is waiting for the cheesecake to chill before devouring this delicious dessert!
To make this no bake, healthy cheesecake, begin by pulsing the graham crackers in a food processor until finely ground. Drizzle in the canola oil and pulse to combine.
Then, press the crust mixture into a 9×13-inch baking sheet and set aside momentarily.
Add the cream cheese, yogurt, sugar, lemon zest, and lemon juice to the food processor and puree until smooth.
Pour the mixture over the graham cracker crust and gently spread into an even layer, carefully as not to disturb the bottom crust.
Refrigerate until cold, about 2 hours.
Finally, top the no bake cheesecake with fresh, seasonal berries and carefully cut into squares. I used strawberries, raspberries, and blueberries, but you can use your choice of fresh berries.
And enjoy!
No-Bake, Healthy Cheesecake Bars with Seasonal Berries
Prep time: 20 Min
Cook time: 2 Hour
Total time: 2 H & 20 M
Are you looking for an easy, healthy cheesecake recipe? I have a version of a no-bake cheesecake that fits the bill! This no-bake, healthy cheesecake with seasonal berries is one of my favorite, go-to summer desserts.
Ingredients
7 ounces of graham crackers, broken into large pieces
¼ teaspoon salt
1/3 cup canola oil
2 8- ounce packages reduced-fat cream cheese
2 cups nonfat, plain Greek yogurt
2/3 cup sugar or sugar substitute
1 tablespoon lemon juice
5 cups of fresh berries (I used strawberries, raspberries, and blueberries)
Instructions
Pulse graham crackers and salt in a food processor until finely ground. With food processor off, drizzle in canola oil. Pulse to combine.
Press graham cracker mixture into a 9 x 13-inch baking dish.
Add cream cheese, yogurt, sugar, and lemon juice to the food processor. Puree until smooth.
Pour the mixture over the graham cracker crust, then gently spread into an even layer.
Refrigerate until cold, about 2 hours.
Top with berries and cut into squares.
Enjoy this delicious bite out of life! (Best enjoyed within 1 to 2 days of assembly)
Notes:
This recipe is best enjoyed within 1 to 2 days of assembly
Sodium (milligrams)
282.76