Cranberries aren't just for the holidays anymore. These oatmeal cranberry bars are soft and chewy, with bursts of juicy cranberries in each bite. You'll want to enjoy these cranberry crumble bars as a healthy breakfast, snack, or dessert all winter long. Click here for the oatmeal cranberry bar recipe.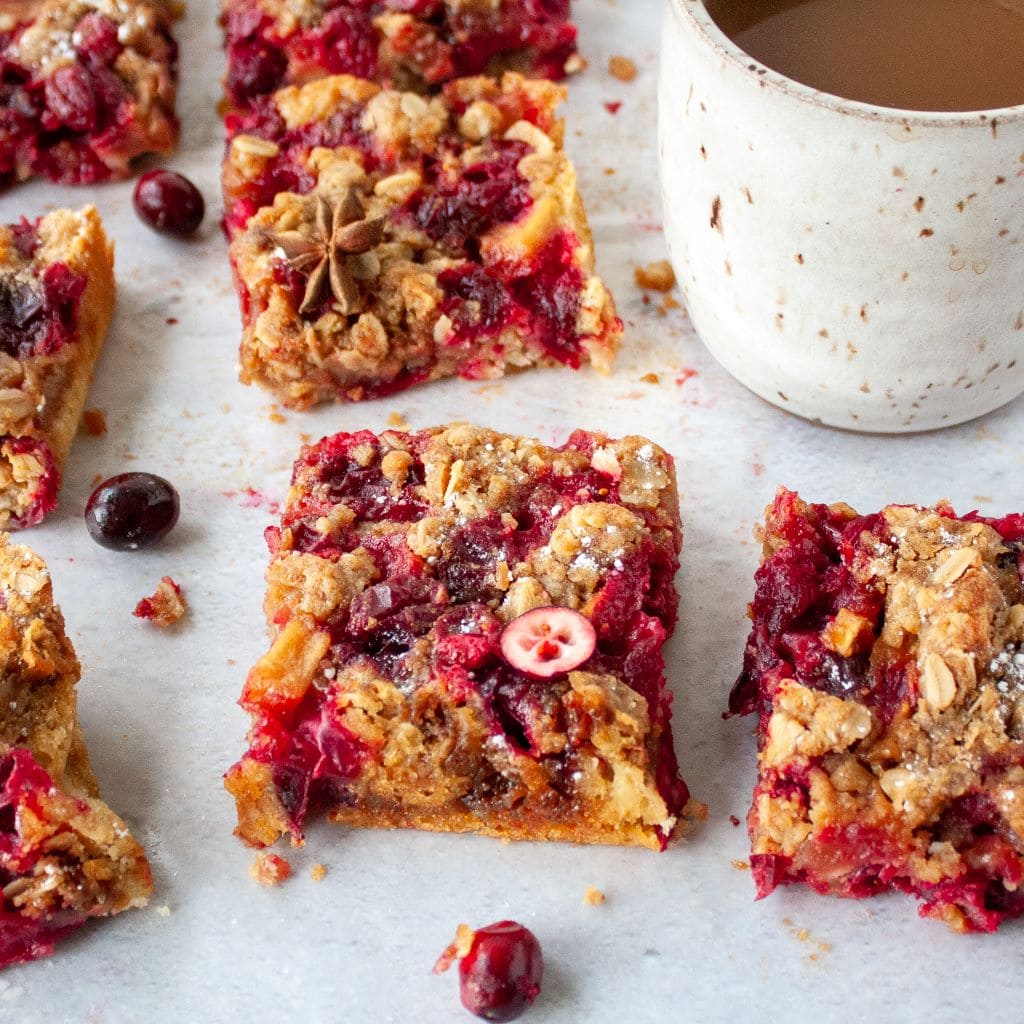 Why Oatmeal Cranberry Bars?
I have a fall-inspired apple version of these bars, but I wanted to update this recipe for the winter. I first tried these oatmeal cranberry bars for Thanksgiving, and they were a huge hit among my family.
After the holidays, I somehow found myself with two extra bags of fresh cranberries, which is the reason that I whipped up these oatmeal cranberry bars in January. So while these cranberry bars are perfect for the festive holiday season, they can also be enjoyed all winter. Or at least anytime that you have fresh or frozen cranberries on hand.
Are These Fresh Cranberry Oatmeal Bars Healthy?
These oatmeal cranberry bars are a healthy (or at least a healthy-ish) breakfast or snack. As a registered dietitian-nutritionist, I am always looking to get more out of my recipes. For me, this means choosing more nutritious ingredients when possible, sneaking more fruits or veggies into my day, and cutting back on added sugar.
What Makes These Oatmeal Cranberry Bars Healthy?
I started by swapping half of the all-purpose flour with old-fashioned oats.
Oats are an excellent source of soluble fiber, manganese, phosphorus, copper, selenium, and magnesium.
The result is a light and fluffy baked good with extra dietary fiber, thanks to the oats. Dietary fiber is associated with several health benefits, including lower cholesterol levels, greater blood sugar control, and improved gut health.
Additionally, I cut back on the added sugar for this recipe.
Cranberries are naturally extremely tart, which is why we seldom eat raw cranberries. In fact, we mostly consume cranberries in the form of cranberry juice, which is usually sweetened with added sugars. Therefore, it is necessary to include some additional sugar. However, I used just enough to take the edge off the fresh cranberries while still embracing this fruit's tart flavor. I also sweetened the cranberries naturally by using apples, which are a source of natural sugars.
The end product is a delicious baked good that is sweet but not overpowering. Do you want to cut back on the added sugar even more? If that is the case, I recommend skipping the crumble topping. Even without the crumble, these oatmeal cranberry bars still have a wonderful, cakey flavor and are packed with juicy cranberries.
Finally, oatmeal cranberry bars are healthier due to the colorful, fresh cranberries. Cranberries are an excellent source of several vitamins, minerals, and antioxidants.
In particular, cranberries are rich in vitamin C, manganese, vitamin E, vitamin K, copper, and polyphenol antioxidants. In fact, fresh cranberries have some of the highest phenol levels among fruits. Phenols are a type of disease-fighting antioxidant that has been linked to heart health.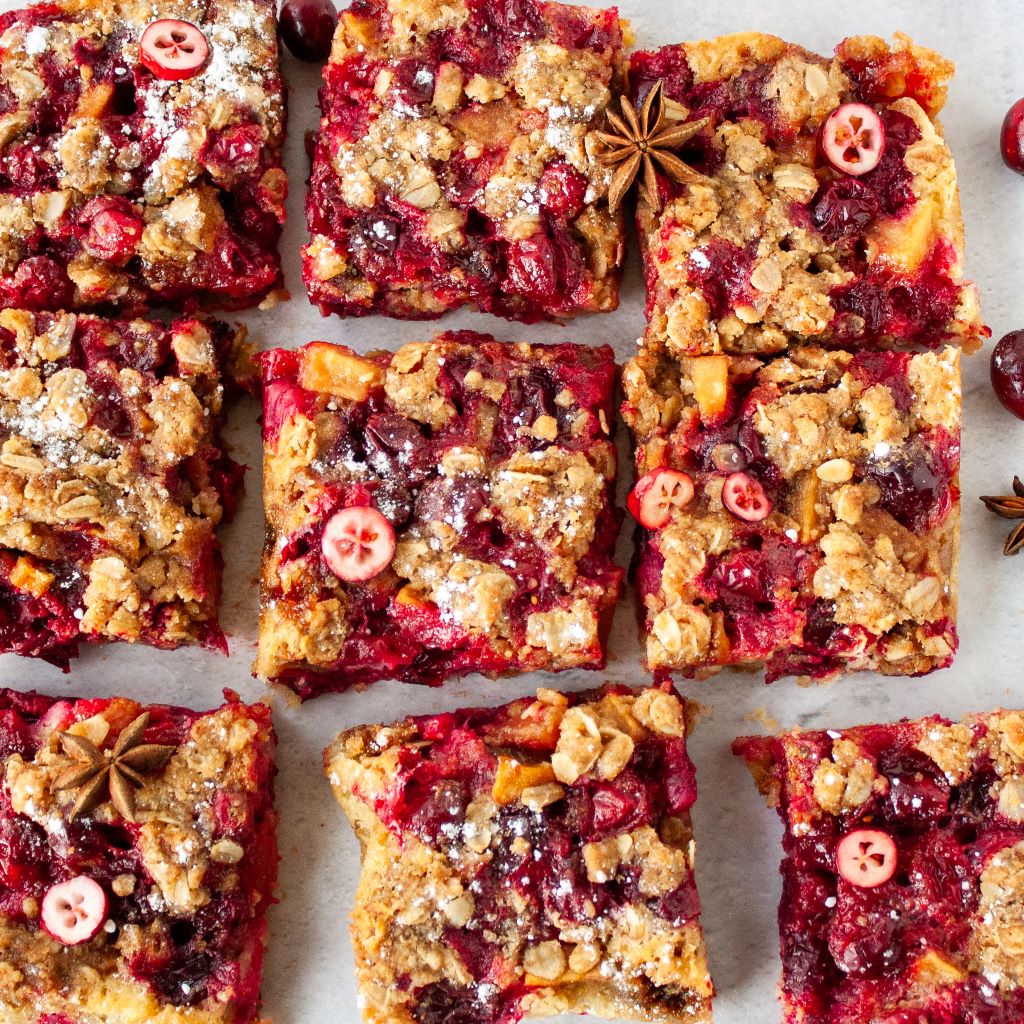 What Do You Need to Make Oatmeal Cranberry Bars
You will need the following to make these cranberry crumble bars:
Equipment:
A stand mixer with a paddle attachment or an electric hand mixer
Apple peeler
Parchment paper
9×9 inch baking pan
Mixing bowls
Ingredients:
Fresh cranberries: Alternatively, you can also use frozen cranberries. If you opt for frozen cranberries, be sure to thaw and pat dry thoroughly before use.
1 medium apple: Cored, peeled, and roughly chopped. The apple helps sweeten the cranberry bars without extra added sugar. When selecting an apple for this recipe, choose an apple variety that is good for baking. I used a Honey Crisp apple because they are naturally sweet and hold their shape in baked goods.
Butter: Preferably unsalted butter. You can omit the salt later in this recipe if you use salted butter.
Canola oil
1 egg
Brown sugar: Light or dark brown sugar will work
Granulated sugar
Corn starch: The corn starch is vital for this recipe, as the fresh cranberries will form kind of a cranberry sauce as they bake. Corn starch helps to absorb the liquids so that the final product isn't runny.
All-purpose flour
Old fashioned oats: You will need old fashioned oats for these oatmeal cranberry bars, not instant oats. Instant oats are finer than old fashioned oats and will act like flour in this recipe, resulting in a dry baked good.
Unsweetened almond milk: You can also use low-fat milk or the milk alternative of your choice.
Vanilla extract
Lemon juice
Salt: For flavor. You can omit the salt if you are using salted butter.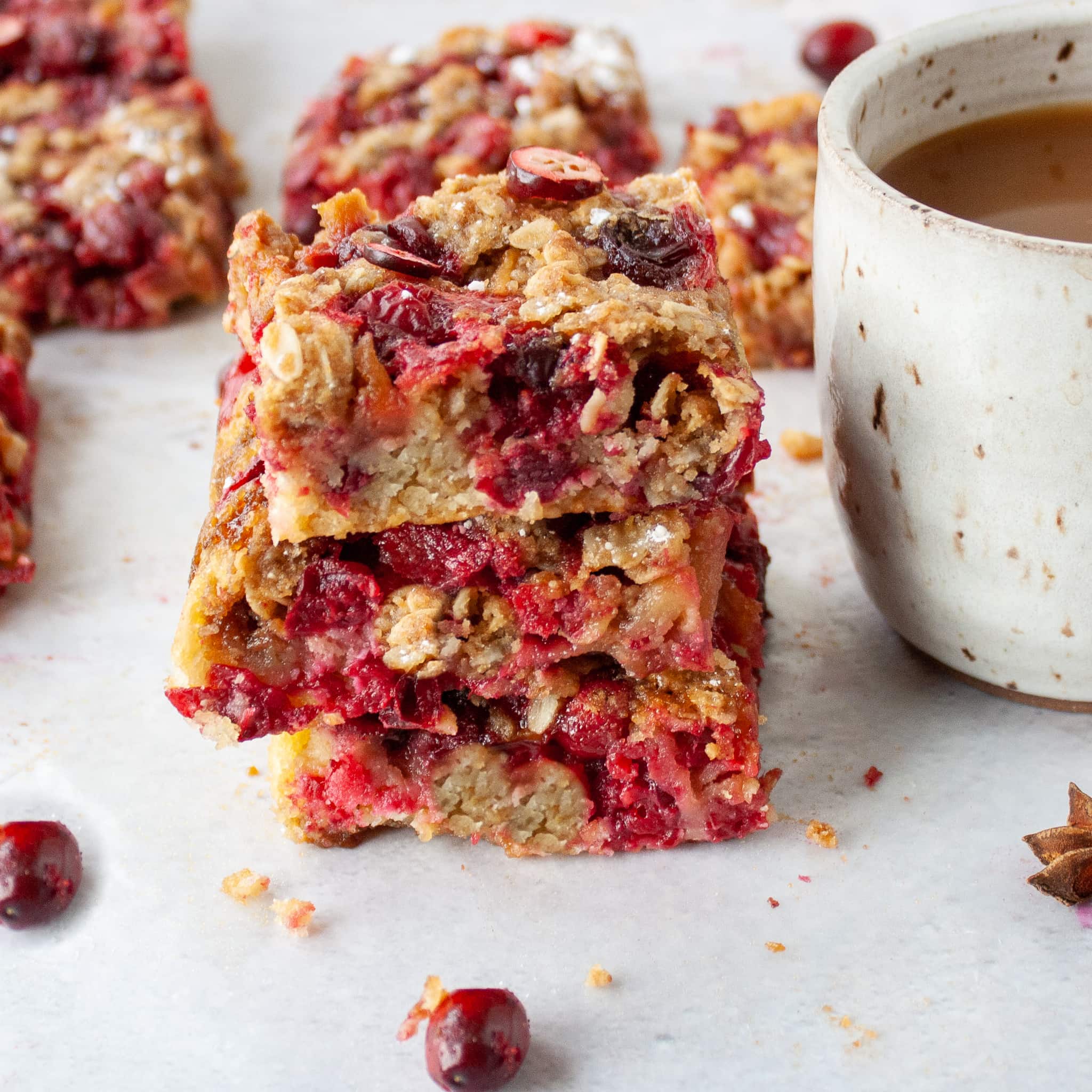 For more recipes that you'll love, check out healthy apple crisp bars. I would love to hear from you if you make these oatmeal cranberry bars. Please be sure to leave a comment below and follow me on Pinterest and Instagram @biteoutoflife_nutrition.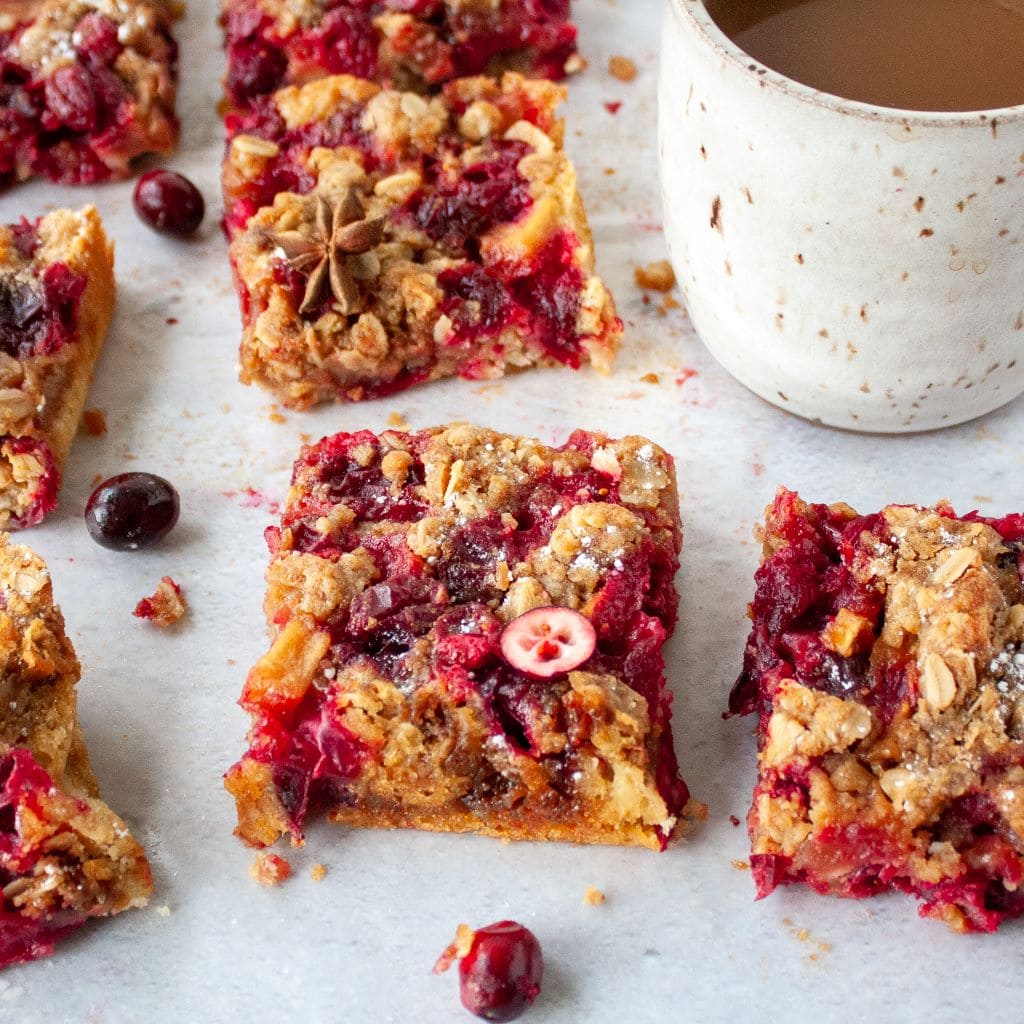 Oatmeal Cranberry Bars
Prep time: 20 Min
Cook time: 1 Hour
Total time: 1 H & 20 M
These oatmeal cranberry bars are soft and chewy, with bursts of juicy cranberries in each bite. You'll want to enjoy these cranberry crumble bars as a healthy breakfast, snack, or dessert all winter long.
Ingredients
For the bar crust
4 tablespoons unsalted butter, at room temperature
1/2 cup granulated sugar
1/4 cup canola oil
1/4 cup unsweetened almond milk or low-fat milk
1 large egg
1/2 teaspoon vanilla extract
1/2 cup all-purpose flour
1/2 cup old fashioned oats
1 teaspoon baking powder
1/4 teaspoon salt
For the cranberry filling
4 cups of fresh cranberries (or about 12 ounces)
1 medium Honey Crisp apple, cored, peeled, and chopped
1 teaspoon lemon juice
1/2 cup brown sugar
1 tablespoon cornstarch
For the crumble topping
1/4 cup old fashioned oats
1/4 cup all-purpose flour
1/4 cup packed brown sugar
3 tablespoons unsalted butter, melted
Instructions
Preheat oven to 350 degrees F. Line a 9×9 inch baking pan with parchment paper and set aside.
Beat 4 tablespoons butter, granulated sugar, and canola oil in a standing bowl mixer or with a hand mixer for about 2 minutes or until light and fluffy. Then, beat in almond milk, eggs, and ½ teaspoon of vanilla extract until combined.
In a separate, large bowl, combine ½ cup all-purpose flour, ½ cup oats, baking powder, and salt. Add the wet ingredients to the dry ingredients and stir until just combined.
Spread the batter into the prepared baking pan.
In a separate bowl, combine cranberries, apple, ½ cup brown sugar, and cornstarch.
Gently add the cranberry filling on top of the crust batter.
To make the crumble topping, stir together 1/4 cup oats, ¼ cup all-purpose flour, ¼ cup brown sugar, and 3 tablespoons melted butter in a medium bowl. Sprinkle the crumble topping over the cranberry filling.
Cover with tinfoil and bake for 30 minutes. After the first 30 minutes, remove the foil and bake for another 25 to 30 minutes or until the crumb is golden brown and a toothpick inserted into the center of the crust comes out cleanly. Cool completely in the pan or on a wire rack before slicing.
Did you make this recipe?