This watermelon pineapple smoothie is possibly the most refreshing summer beverage you can drink! It is made using four simple ingredients to create a smoothie with a sweet, fruity flavor.
Plus, this combination of watermelon and pineapple may offer health benefits, such as promoting a healthy heart!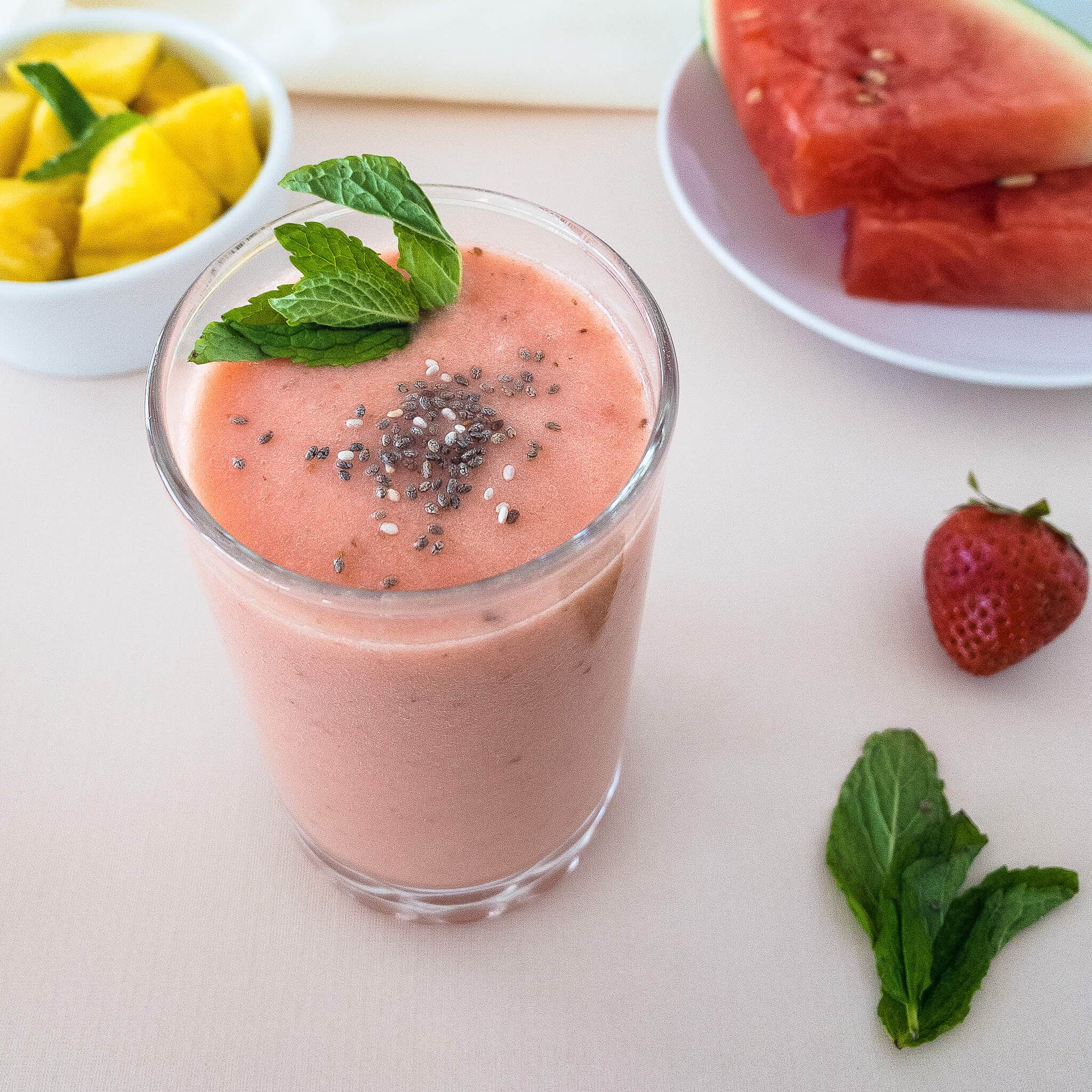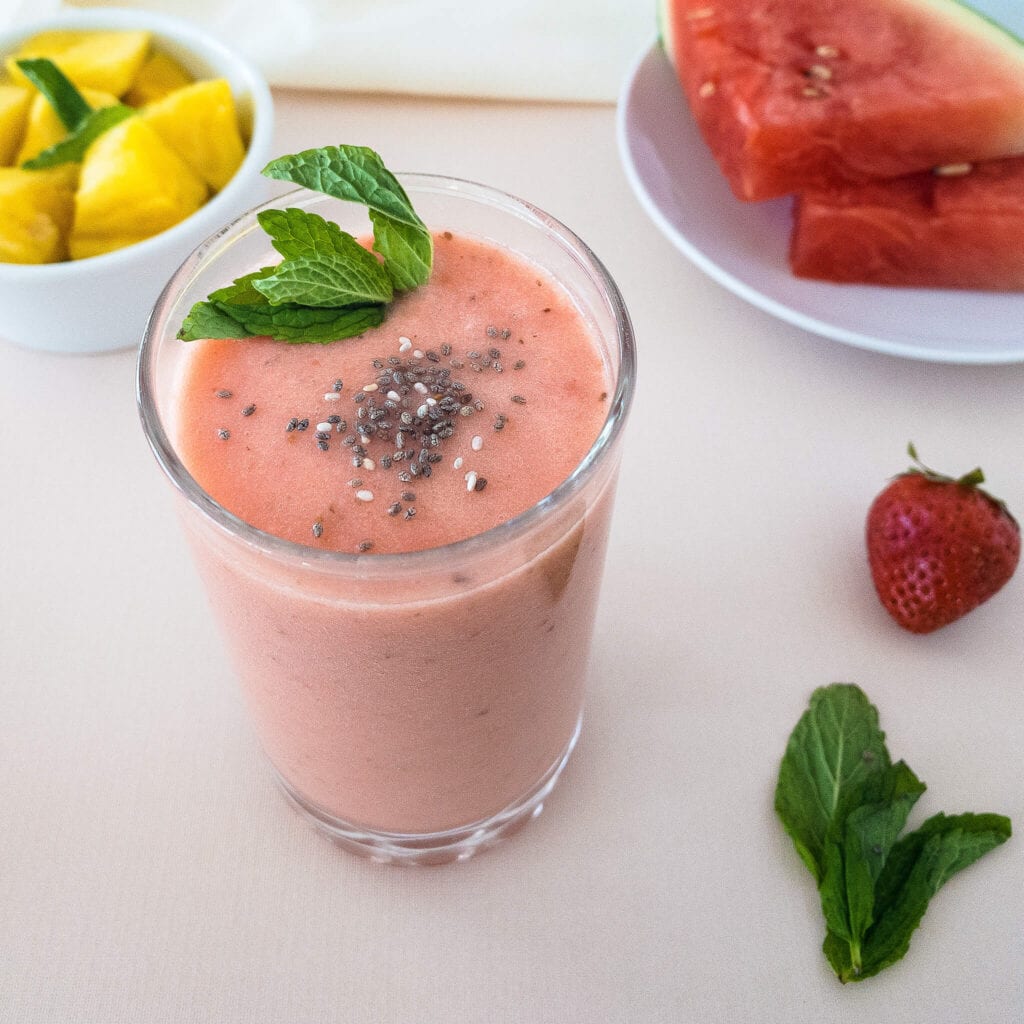 Is Watermelon and Pineapple a Good Combination?
Are you looking for a mouth-watering smoothie recipe that is perfect for these hot summer months? This watermelon pineapple smoothie will hit the spot.
Plus, watermelon and pineapple are an excellent combination that is guaranteed to quench your thirst. Both of these fruits pair well together to create a smoothie that is fruity, sweet, and hydrating.
Click here to jump to the Watermelon Pineapple Smoothie Recipe.
As a registered dietitian, I am always looking for new ways to eat (or drink!) more fruits. I think that smoothies are one of the easiest and tastiest ways to include more nutrition in your day. And with so many smoothie recipes out there, you will never get bored!
The good news is that you can make this watermelon pineapple smoothie using four simple ingredients; frozen pineapple, watermelon, strawberries, and almond milk. However, feel free to play around with the smoothie ingredients to find a combination that you like best.
Some additional smoothie ingredients that pair well with this watermelon pineapple smoothie are:
Avocado- Try adding half an avocado to this smoothie to add a creamy texture
Mint- Some fresh mint leaves will make this watermelon pineapple smoothie even more refreshing
Jalapeño- For those who like an extra kick. The jalapeno also pairs well with both the watermelon and pineapple.
Ginger
Spinach- Why not sneak some leafy greens into your smoothies?
Flaxseeds
Chia seeds
Rolled oats
Protein powder
Lime juice
Greek yogurt
These are a few of the many ingredients that you can add to your smoothie recipes. What are some other flavor ideas that you love in your smoothies? Tell me in a comment below.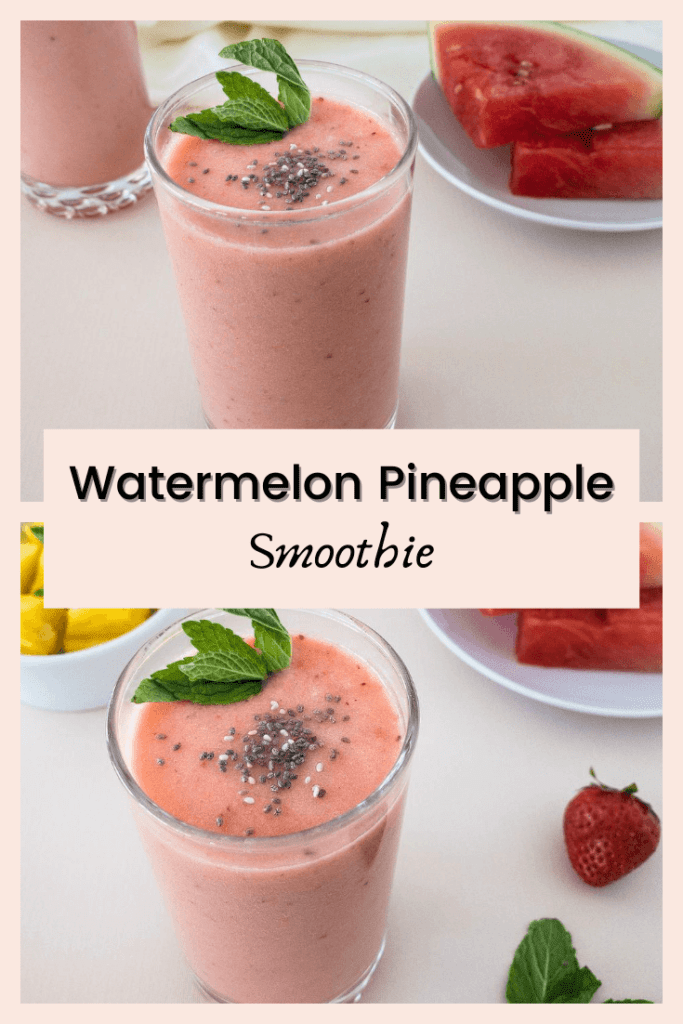 Watermelon and Pineapple Benefits
The potential benefits of watermelon and pineapple include improved heart health, eye health, and a lower risk of certain cancers.
To start, the USDA recommends eating 5-9 servings of fruits and vegetables per day, or about 2 cups of fruit and 2.5 cups of veggies (1). This may seem like a lot, but the good news is that this watermelon pineapple smoothie contains about two servings of fruit!
Fruits are packed with essential nutrients that many Americans don't get enough of, including potassium, vitamin C, and beta-carotene.
Watermelon and pineapples are no exception, and both have an impressive nutritional profile.
For example, pineapple is especially rich in vitamin C and manganese, providing 131% and 76% of the daily value (DV) in a one-cup serving, respectively (2). Vitamin C is essential for immune function and is involved in the production of collagen for healthy skin.
Manganese is a mineral that has acts as an antioxidant and helps maintain a healthy metabolism.
Additionally, watermelon is a source of essential vitamins and minerals, including potassium, vitamin C and A, and magnesium. It is also a source of lycopene, which is an antioxidant that may promote heart health and help protect against certain cancers (3, 4, 5, 6).
When combined, the benefits of watermelon and pineapple make for a healthy and delicious smoothie!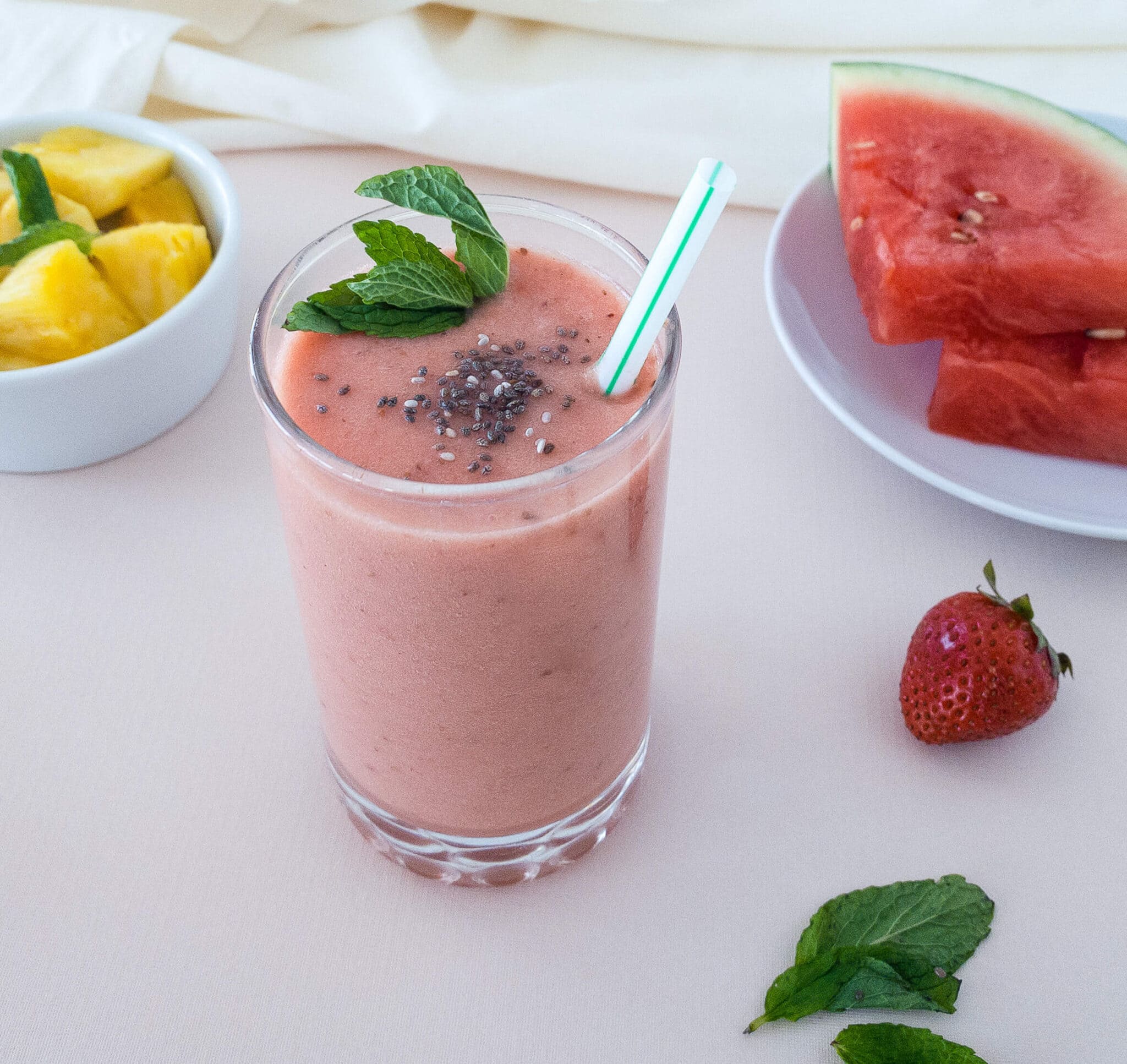 I would love to hear from you. What are some other smoothie recipes that you love? Comment below, and be sure to follow me on Instagram and Pinterest @biteoutoflife_nutrition.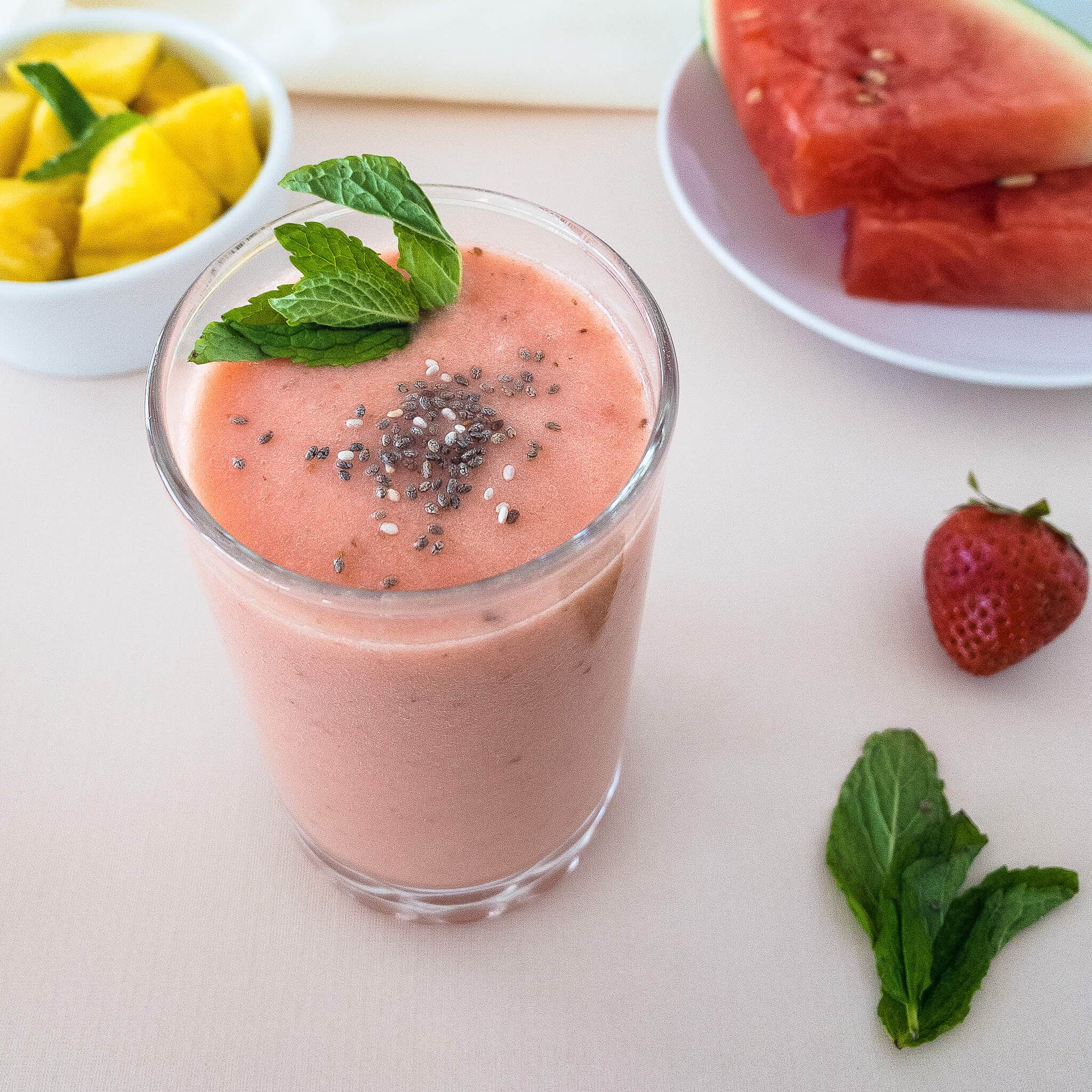 Watermelon Pineapple Smoothie
Prep time: 5 Min
Total time: 5 Min
This watermelon pineapple smoothie is a refreshing summer treat. It is made using four simple ingredients to create a healthy smoothie with a sweet, fruity flavor.
Ingredients
¾ cup seedless watermelon, diced
½ cup frozen pineapple, cut into chunks
½ cup strawberries, diced
¼ cup unsweetened almond milk
Instructions
Add watermelon, pineapple, strawberries, and unsweetened almond milk to a high-speed blender.
Blend ingredients until smooth.
Notes:
You may want to add more or less almond milk depending on how thick you like your smoothie.
Did you make this recipe?