All the flavor of apple crisp but in a healthier, mess-free bar! Healthy apple crisp bars are light, cake-like, and brimming with fresh, juicy apples.
Autumn is all about apple season, and apple crisp will always be a staple dessert this time of year. So why not take the flavor of apple crisp and transform it into a portable bar that you can eat anytime, anywhere?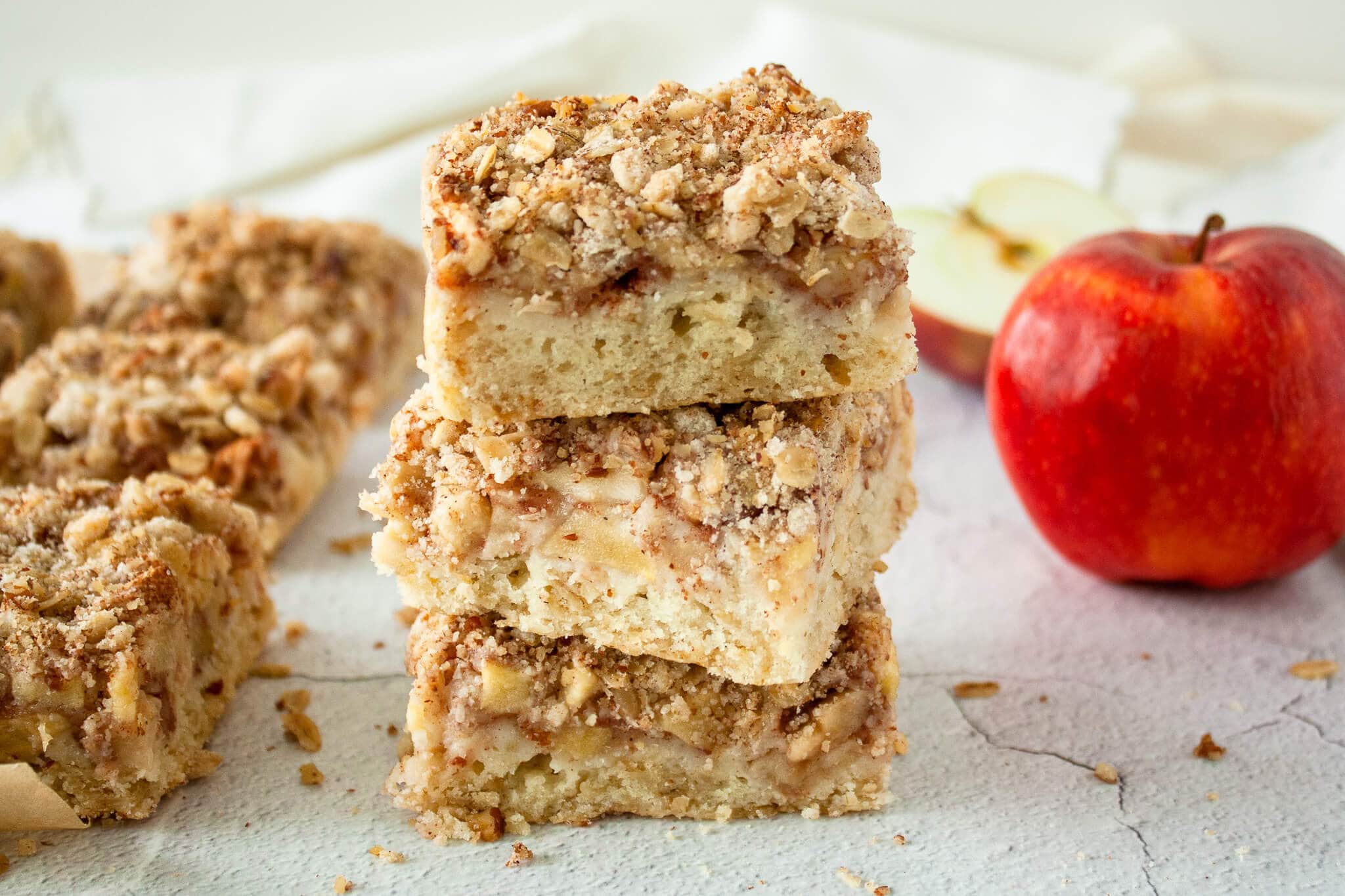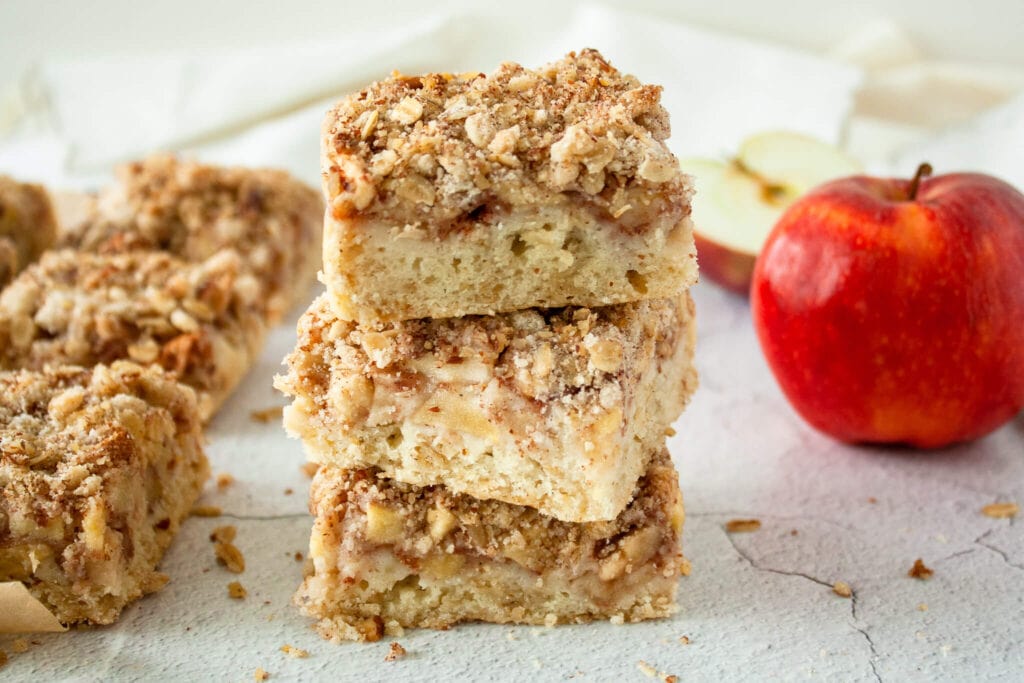 These healthy (or at least healthier) apple crisp bars combine the best parts of apple crisp in the form of a mess-free bar. Healthy apple crisp bars are made more nutritious by substituting about half of the butter and flour for better-for-you ingredients such as canola oil and oats. They are light enough to be a quick breakfast or an afternoon pick-me-up, but still sweet enough to be enjoyed as a delicious, fall dessert.
Click here to jump to the healthy apple crisp bar recipe.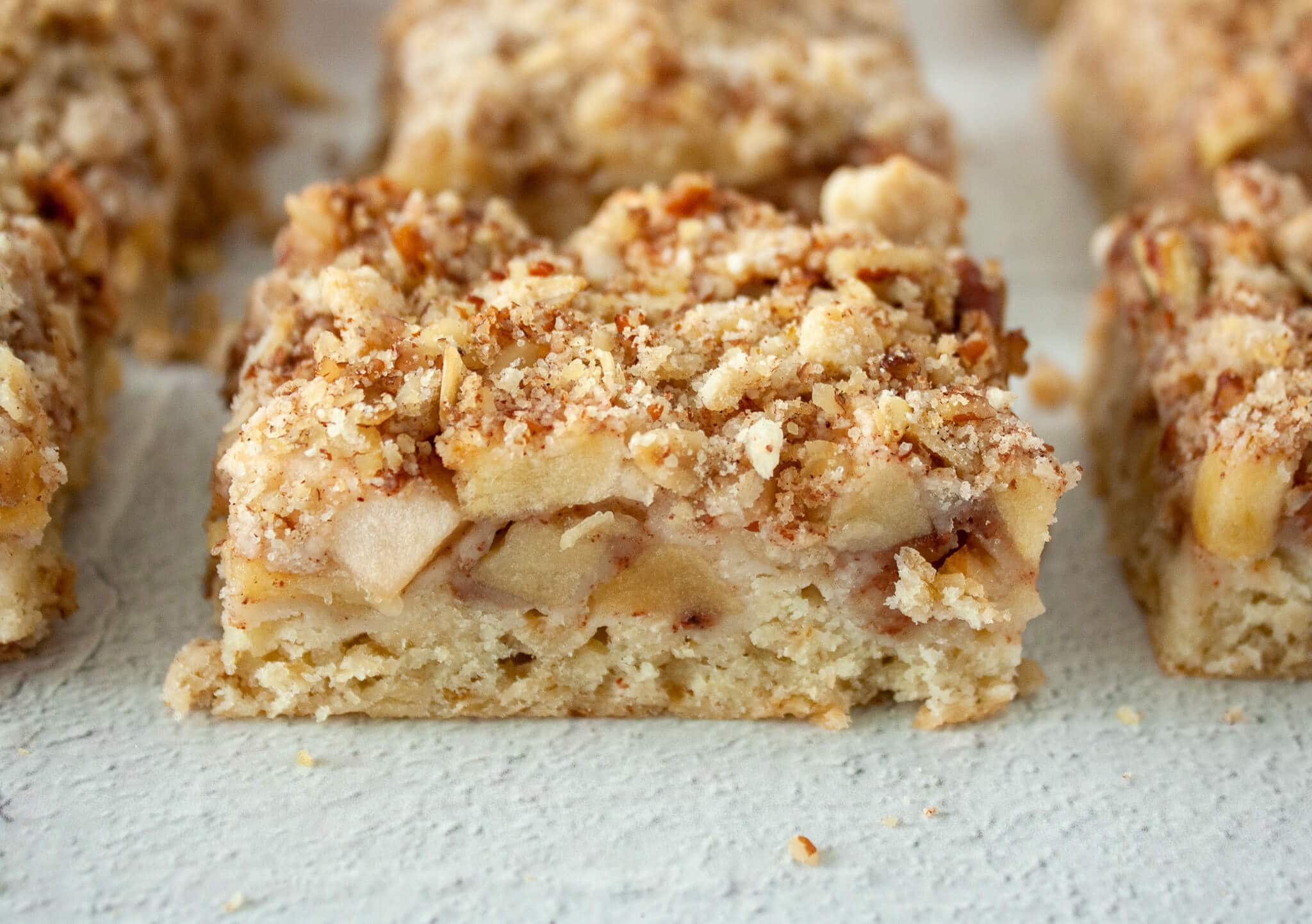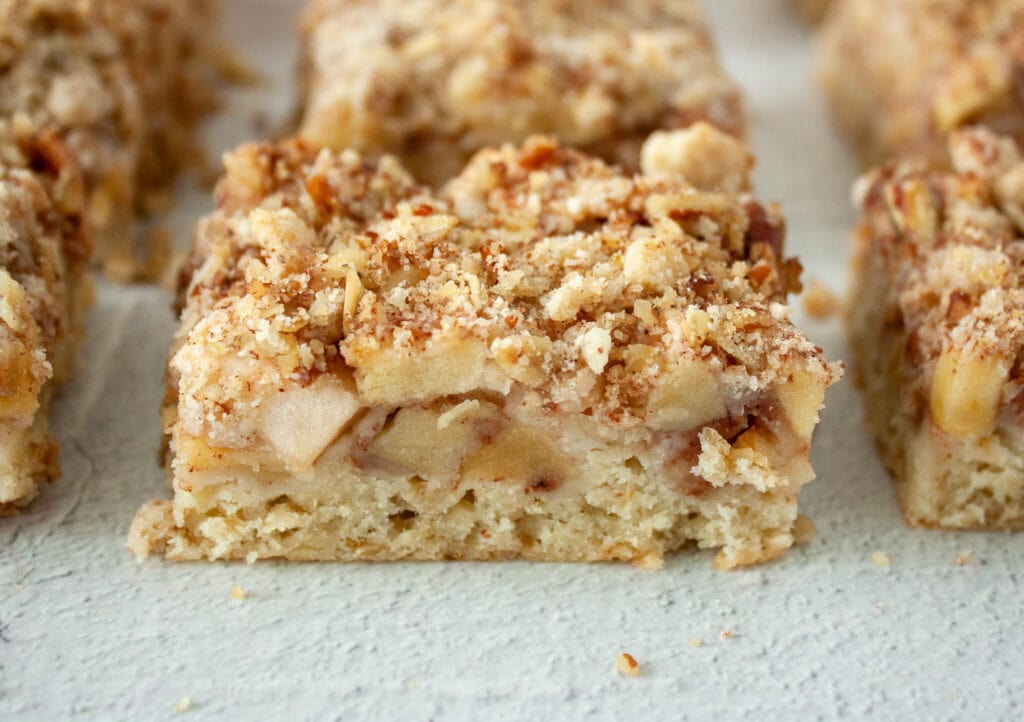 What Makes These Apple Crisp Bars Healthier?
This recipe replaces half of the butter with heart-healthy canola oil, resulting in a bar with less saturated fat. Plus, canola oil is a source of alpha-linolenic acid or ALA, a type of plant-based omega-3 fatty acid (1).
Omega 3s are essential for brain health and help reduce the body's inflammatory response. Research suggests that higher intakes of omega-3 fatty acids compared to omega-6 may help decrease inflammation (2, 3).
The reason that this is important is because chronic inflammation may play a role in the development of many diseases, including cancer, heart disease, Alzheimer's disease, and diabetes (4-6). However, keep in mind that the ALA found in plant sources must be converted into EPA and DHA by the body before it can be used. Overall, this process is inefficient, which is why fish sources of omega-3s are considered more potent (1).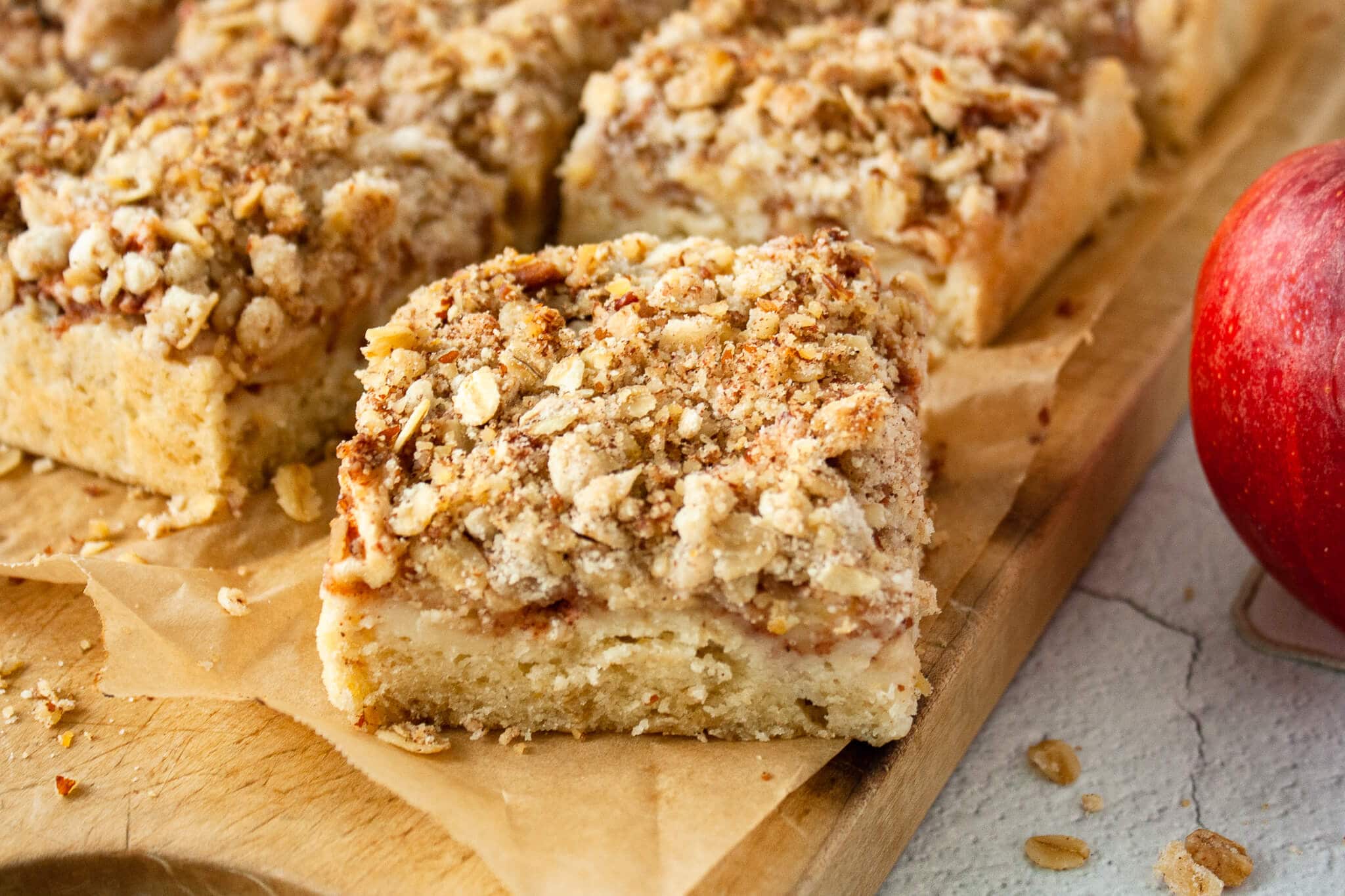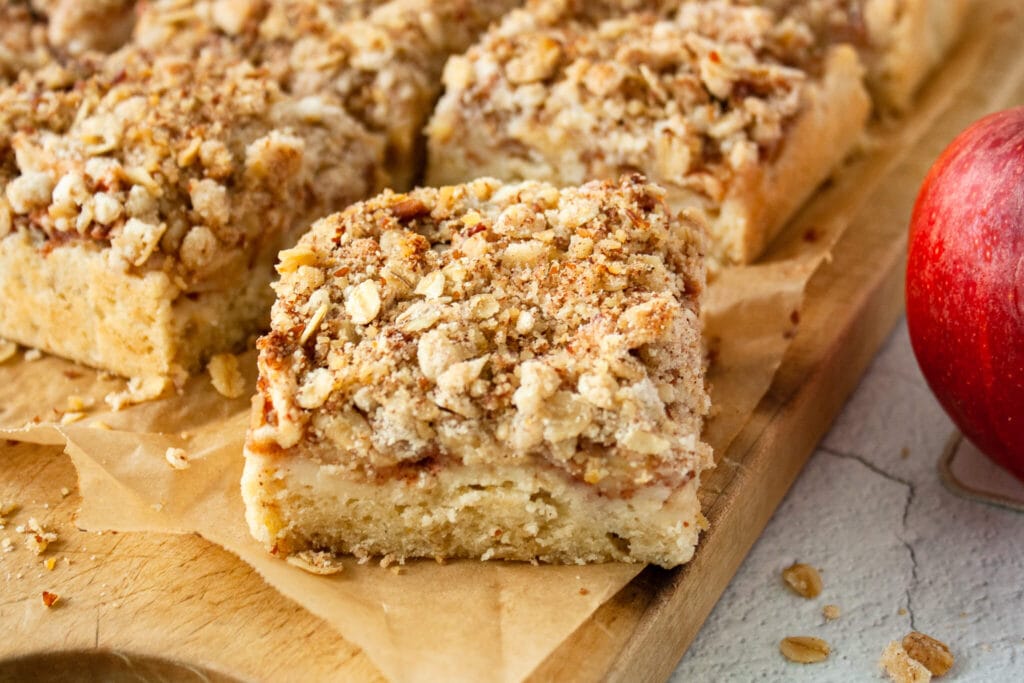 We also swap out about half of the all-purpose flour with old-fashioned oats. The result is a bar that is still light and fluffy but with extra dietary fiber, thanks to the oats. Dietary fiber is associated with potential health benefits, including lower cholesterol levels and improved gut health (7, 8).
Additionally, this recipe calls for less added sugar, resulting in a baked good that is sweet but not overpowering. Want to make this recipe even healthier? Try skipping the crisp topping. Even without the crisp top, these bars still have a wonderful, cakey flavor and are packed with juicy, cinnamon apples.
Finally, this recipe calls for a whopping six cups of fresh apples!
Why Are Apples Healthy?
Apples are a nutritional powerhouse and are a decent source of soluble fiber, vitamin C, vitamin K, vitamin A, potassium, and vitamin B6. They also contain antioxidants known as flavonoids, which may help reduce the risk of heart disease by lowering blood pressure, reducing "bad" LDL cholesterol, and protecting your body against free radical damage (9-11).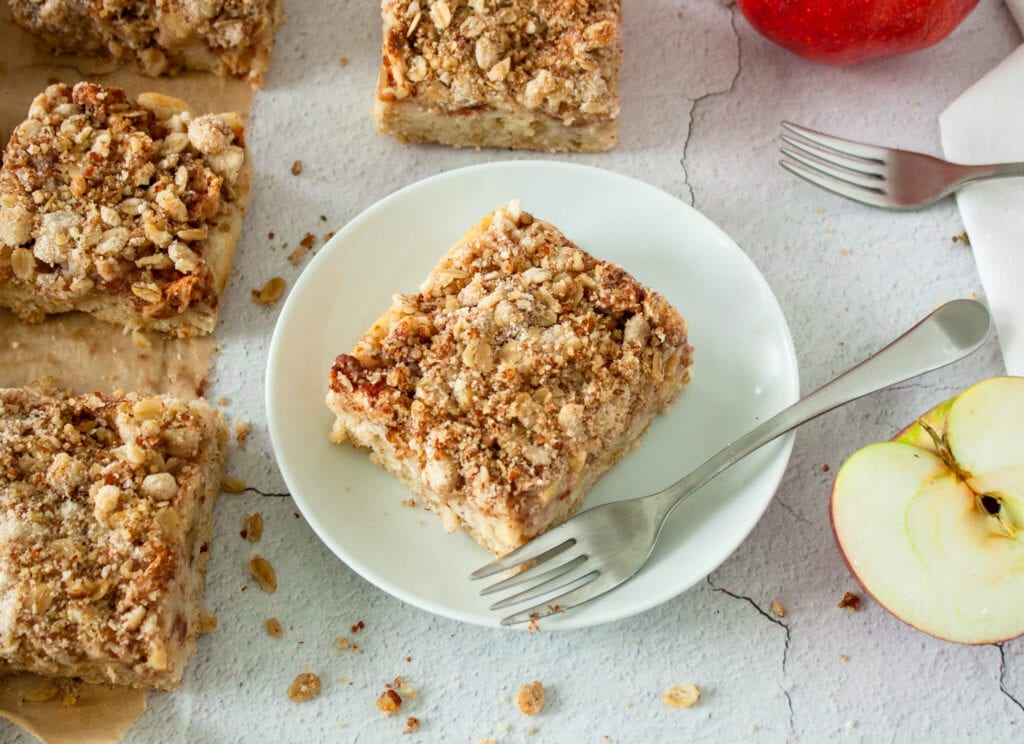 What Do You Need to Make Apple Crisp Bars?
This healthy apple crisp bar recipe is relatively straight forward and can be pulled together in about an hour and a half, including baking time. You will need the following to make these apple crisp bars:
Stand mixer with a paddle attachment or an electric hand mixer
Apple peeler
Parchment paper
9×9 inch baking pan
Butter: preferably unsalted, but salted will work as long as you omit the salt called for in the recipe
Brown sugar: light or brown sugar will work
All-purpose flour
Old fashioned oats: You will need old fashioned oats for this recipe, not instant oats
Apples: Cored, peeled, and roughly chopped. This recipe calls for 6 cups of chopped apples, which is about 4 to 5 large apples. I use Granny Smith or Golden Delicious apples since they are an excellent variety for baking. However, you can use the apple variety of your choice. The key to baking with apples is choosing a type with a firm texture, as they retain their shape during baking. Apples that aren't firm enough may sink into the batter and cause the bars to lose their form.
Unsweetened almond milk: You can also use low-fat milk or milk alternative of your choice
1 egg
Granulated sugar
Vanilla extract
Lemon juice: A small amount to help keep the apples from browning.
Cinnamon: Since it wouldn't be warm apple crisp without this cozy spice!
Nutmeg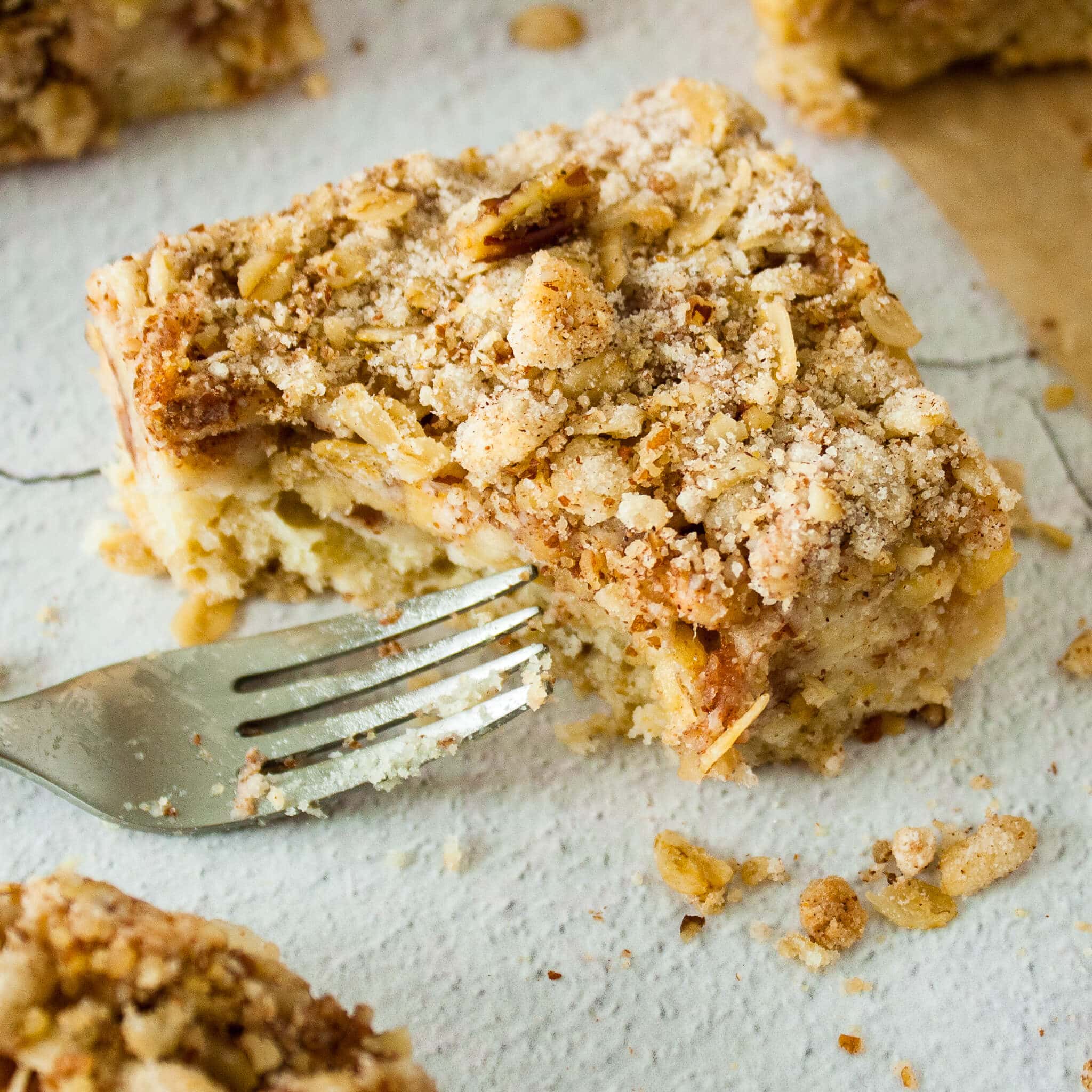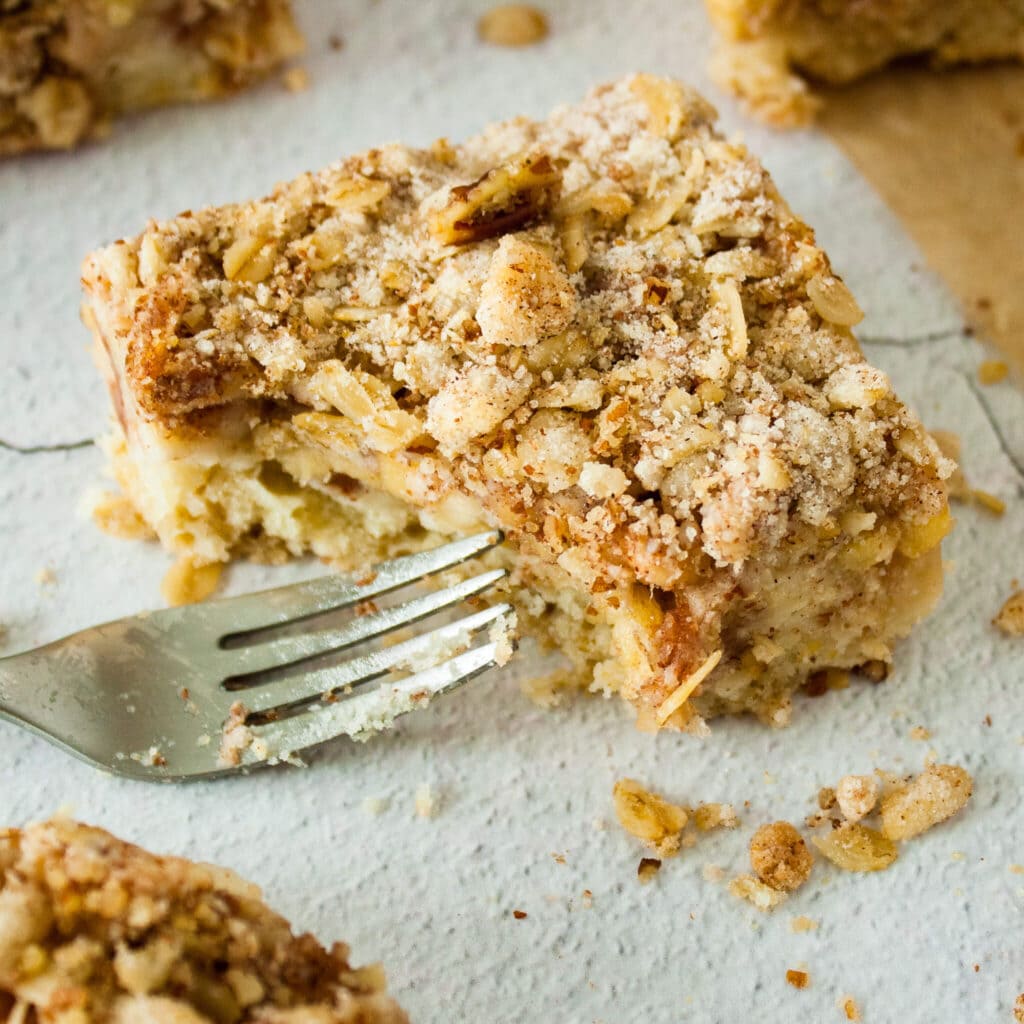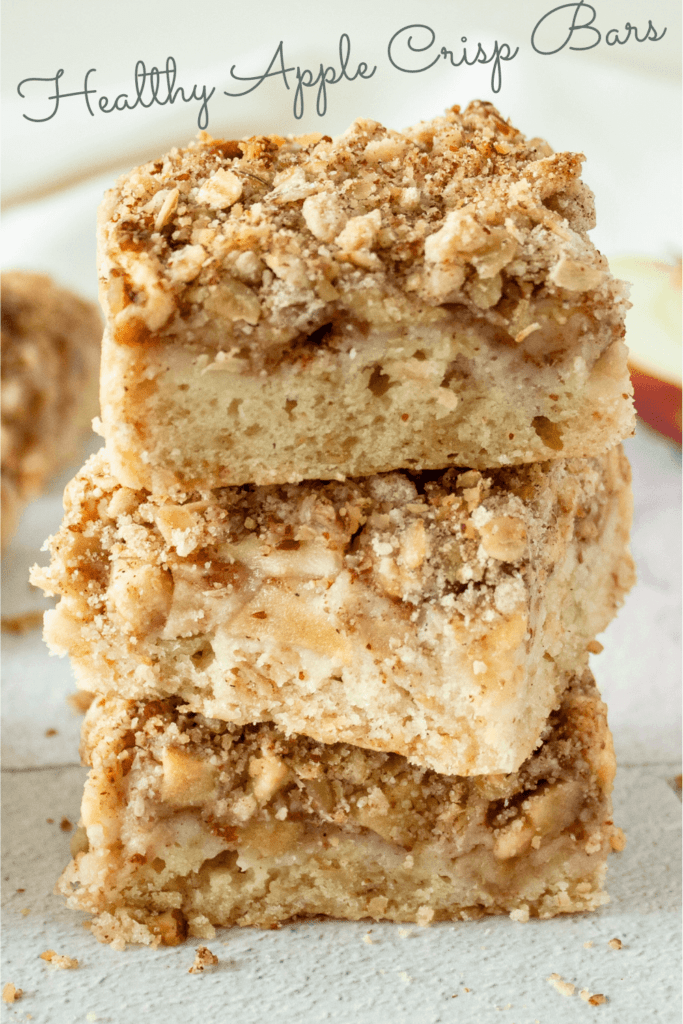 There you have it! A healthy and delicious apple crisp bar recipe that is perfect for autumn! I would love to hear from you. What are some other apple recipes that you love? Comment below and be sure to follow me on Instagram and Pinterest @biteoutoflife_nutrition
And for more fall recipes, be sure to check out my fall-inspired pear muffins.
Healthy, Autumn Apple Crisp Bars
Prep time: 30 Min
Cook time: 1 Hour
Total time: 1 H & 30 M
All the flavor of apple crisp but in a healthier, mess-free bar! Healthy apple crisp bars are light, cake-like, and brimming with fresh, juicy apples.
Ingredients
For the bar crust
4 tablespoons unsalted butter, at room temperature
1/2 cup granulated sugar
1/4 cup canola oil
1/4 cup unsweetened almond milk or low-fat milk
1 large egg
1/2 teaspoon vanilla extract
1/2 cup all-purpose flour
1/2 cup old fashioned oats
1 teaspoon baking powder
1/4 teaspoon salt
For the apple filling
6 cups Golden Delicious apples, peeled, cored, and chopped (about 4 to 5 apples)
1/4 cup packed brown sugar
3 tablespoons all-purpose flour
1 tablespoon lemon juice
1 teaspoon cinnamon
1/4 teaspoon nutmeg
For the apple crisp topping
1/2 cup old fashioned oats
1/3 cup all purpose flour
1/4 cup packed brown sugar
3 tablespoons unsalted butter, melted
1/4 cup chopped pecans, optional
Instructions
Preheat oven to 350 degrees F. Line a 9×9 inch baking pan with parchment paper and set aside.
Beat the butter, sugar, and canola oil in a standing bowl mixer or with a hand mixer for about 2 minutes or until light and fluffy. Then, beat in egg, milk, and vanilla extract until combined.
In a separate, large bowl, combine flour, oats, baking powder, and salt. Add the wet ingredients to the dry ingredients and stir until just combined.
Spread the batter into the prepared baking pan.
Combine apples, brown sugar, lemon juice, 3 tablespoons of all-purpose flour, cinnamon, and nutmeg. Stir to coat the apples evenly.
Gently add the apple filling on top of the crust batter.
To make the apple crisp topping, stir together oats, flour, brown sugar, and melted butter in a medium bowl. Sprinkle the apple crisp topping over the apple filling and top with chopped pecans if desired.
Cover with tinfoil and bake for 30 minutes. After the first 30 minutes, remove the foil and bake for another 25 to 30 minutes or until the crumb is golden brown and a toothpick inserted into the center of the crust comes out cleanly. Cool on a wire rack.
Notes:
I used Golden Delicious apples for this recipe but you can use any apple variety that is good for baking.
Note: Nutritional info was calculated without the optional pecans
Did you make this recipe?
References
Harris WS. Omega-3 fatty acids. In: Coates PM, Betz JM, Blackman MR, et al., eds. Encyclopedia of Dietary Supplements. 2nd ed. London and New York: Informa Healthcare; 2010:577-86.
Calder PC. Omega-3 fatty acids and inflammatory processes. Nutrients. 2010;2(3):355-374. doi:10.3390/nu2030355
Calder PC. n-3 polyunsaturated fatty acids, inflammation, and inflammatory diseases. Am J Clin Nutr. 2006;83(6 Suppl):1505S-1519S. doi:10.1093/ajcn/83.6.1505S
Libby P. Inflammation in atherosclerosis. Nature. 2002;420(6917):868-874. doi:10.1038/nature01323
Coussens LM, Werb Z. Inflammation and cancer. Nature. 2002;420(6917):860-867. doi:10.1038/nature01322
Fotuhi M, Mohassel P, Yaffe K. Fish consumption, long-chain omega-3 fatty acids and risk of cognitive decline or Alzheimer disease: a complex association. Nat Clin Pract Neurol. 2009;5(3):140-152. doi:10.1038/ncpneuro1044
Nutrition facts label: Dietary fiber. U.S. Food and Drug Administration. https://www.accessdata.fda.gov/scripts/InteractiveNutritionFactsLabel/#intro. Accessed Oct. 1, 2018.
Veronese N, et al. Dietary fiber and health outcomes: An umbrella review of systematic reviews and meta-analyses. Am J Clin Nutr. 2018;107:436.
Peterson, Julia J et al. "Associations between flavonoids and cardiovascular disease incidence or mortality in European and US populations." Nutrition reviews vol. 70,9 (2012): 491-508. doi:10.1111/j.1753-4887.2012.00508.x
Hollman, Peter C H et al. "Dietary flavonol intake may lower stroke risk in men and women." The Journal of nutrition vol. 140,3 (2010): 600-4. doi:10.3945/jn.109.116632
Xu, Hui et al. "Flavonoids intake and risk of type 2 diabetes mellitus: A meta-analysis of prospective cohort studies." Medicine vol. 97,19 (2018): e0686. doi:10.1097/MD.0000000000010686