We're nearing the end of September, and the nights are finally getting cooler. (Or at least they are here on the east coast.) Fall is just around the corner yet again, which can only mean one thing… pumpkin!
Honestly, who can think of a better way to kick off this cozy season than baking a fresh batch of pumpkin cookies?
And this vegan pumpkin cookie recipe with gooey chocolate chips is my all-time favorite. These cookies are perfectly crispy on the outside while remaining soft and tender in the center, which can be hard to achieve in a vegan cookie.
Plus, vegan pumpkin chocolate chip cookies are brimming with warm fall flavors thanks to the pumpkin, cinnamon, and nutmeg. Not to mention that this recipe is made using wholesome ingredients, to make a delicious and healthy pumpkin cookie. These are truly the ultimate vegan fall dessert.
I'll also let you in on my secret to baking the perfect vegan cookie with the ideal texture (i.e., crispy edges and a soft center). I'll give you a hint: it's all in the type of fat that I use.
So, let's get baking!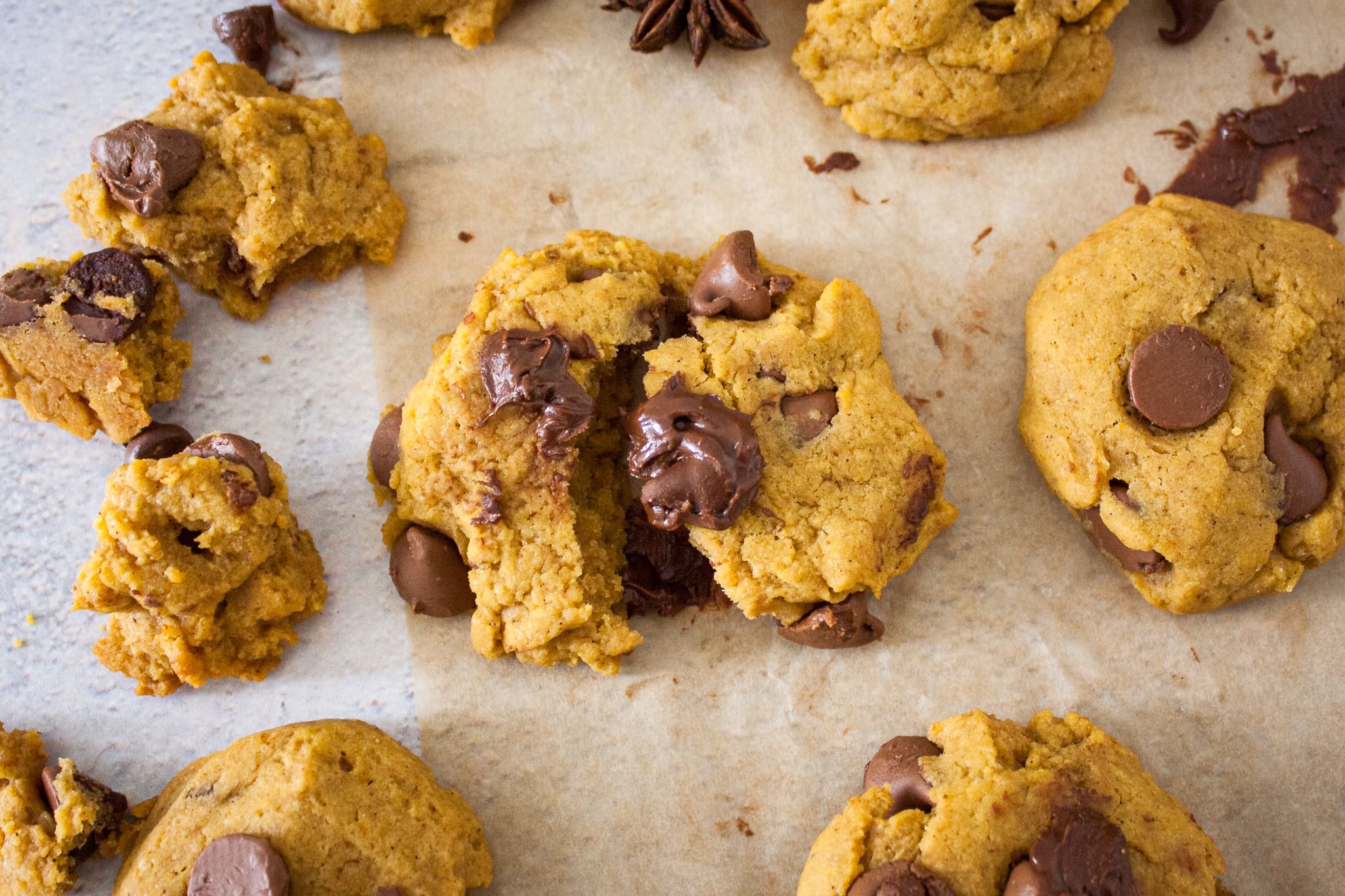 What You'll Need for Vegan Pumpkin Chocolate Chip Cookies
These vegan pumpkin chocolate chip cookies come together relatively quickly. Plus, they're made with staple ingredients you likely already have in your kitchen. Raise your hand if you have pumpkin puree in your pantry year-round. I know that I do!
Here is everything that you'll need to make the ultimate vegan pumpkin chocolate chip cookies.
A stand mixer with a paddle attachment. You can also use an electric handheld mixer for this recipe.
All-purpose flour
White sugar
Brown sugar
Baking powder
Cinnamon
Nutmeg
Ground ginger
Cloves
Salt
Coconut oil: make sure the coconut oil is solid and not in it's liquid form. This is important so that we can cream the coconut oil and sugar to achieve a cookie that is soft and tender but not cakey. You can read more about this step in the next sections.
Pumpkin puree
The vegan milk alternative of your choice
Vegan chocolate chips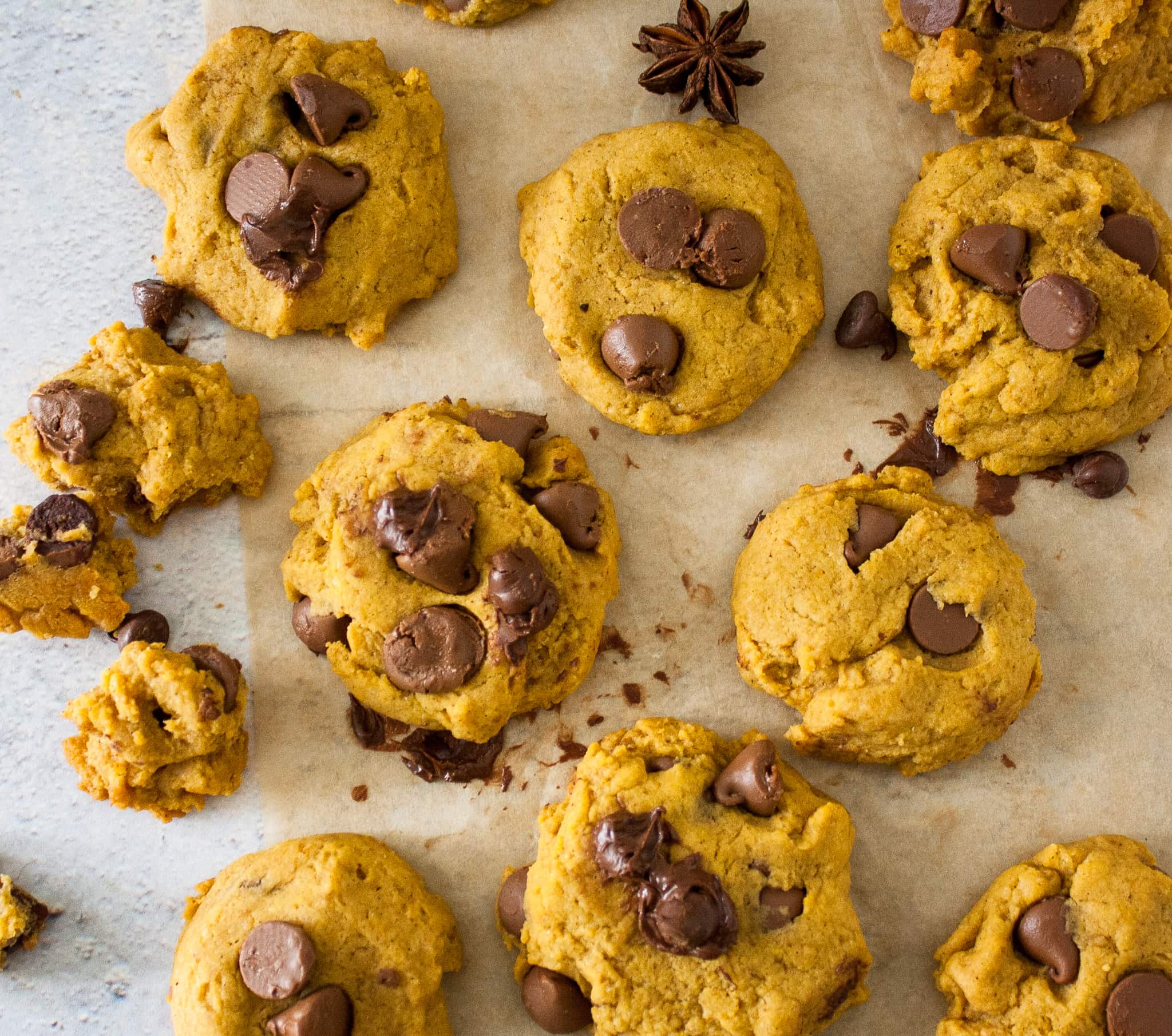 Important Notes for This Recipe
You'll need a vegan milk alternative for this recipe. Some options that work well for baking include soy, oat, or almond milk, but you can use the milk alternative of your choice. Additionally, I recommend using an unsweetened variety for less added sugar. I used unsweetened oat milk.
This recipe calls for ground cinnamon, nutmeg, cloves, and ginger to create the perfect blend of warm fall flavors. You can substitute these spices for two teaspoons of pumpkin pie spice if you prefer.
Opt for your favorite brand of vegan chocolate chips. I personally used vegan milk chocolate chips for this recipe, but semi-sweet chocolate chips will also work. Additionally, you can use whatever kind of chocolate chips you have in your pantry at the moment, but keep in mind that not all brands are vegan.
The batter is supposed to be thick once the wet and dry ingredients are combined. Keep in mind that these cookies will only spread out slightly during baking. That's why you should gently press down on the tops of each cookie to flatten slightly before putting them in the oven.
The coconut oil needs to be in its solid form for this recipe and not a liquid. It should have the consistency of room temperature butter. This is important because it allows us to cream the coconut oil and sugar to achieve a tender cookie that's not cakey.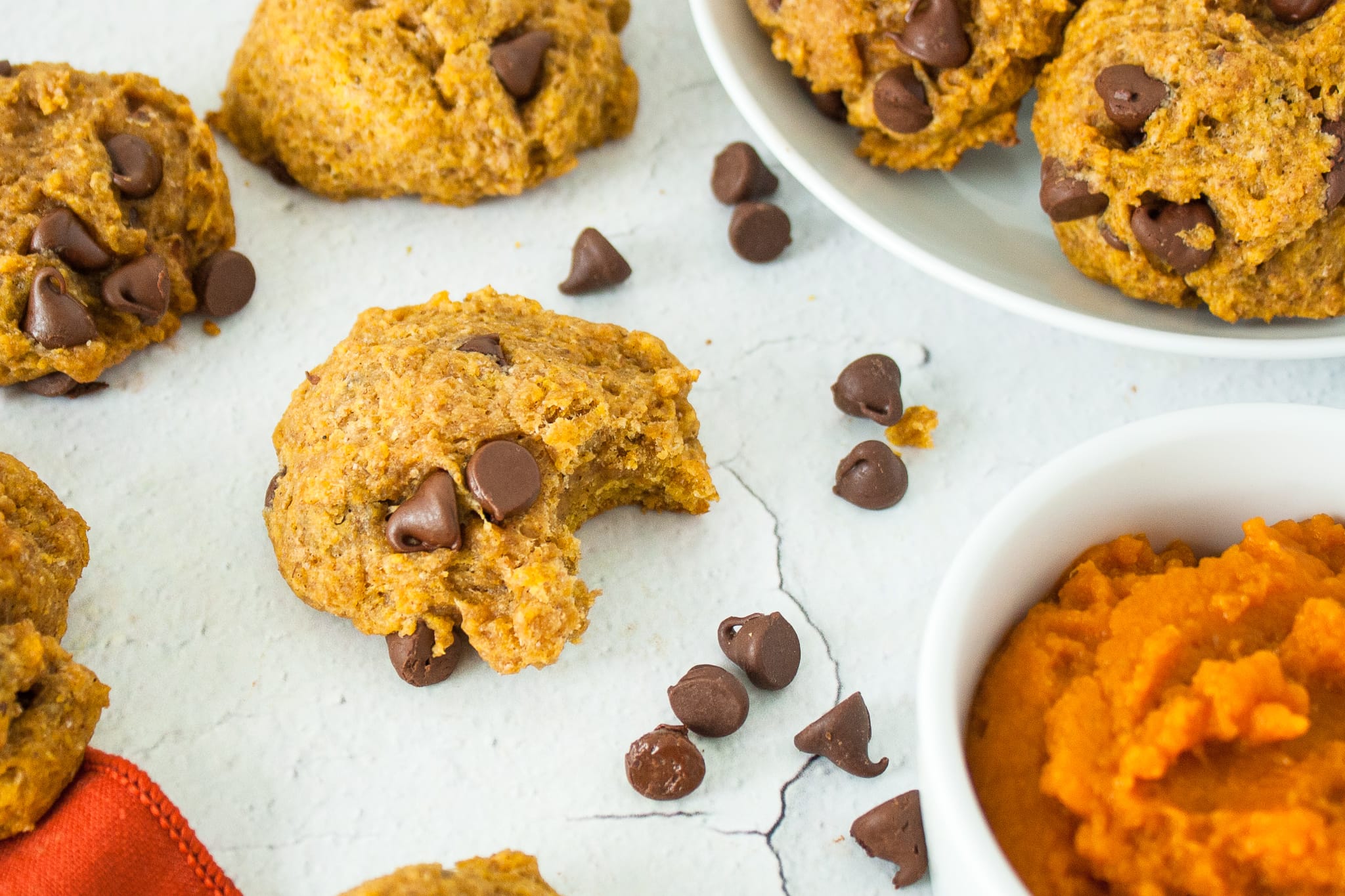 Why Coconut Oil Is Key for Vegan Cookies
Usually, in baking, sugar is "creamed" into butter or shortening to help leaven the baked good and give it a delicious fluffy but tender texture. This happens because the sugar molecules add air to the solid fat during the creaming process, causing the mixture to expand. In other words, the air becomes trapped in the solid fat, which helps leaven the baked good.
The trapped air, fat, and sugar create a delicious end product that is creamy and tender. In cookies, this results in a cookie that is crispy on the outside and soft on the inside- basically the perfect cookie. Cookies made without creaming fat and sugar tend to have a cakey or cake-like texture. This isn't necessarily bad, but I prefer cakes that taste like cakes and cookies that taste like cookies.
Unfortunately, you can't cream sugar with liquid oils, like many plant-based oils we might use for vegan baking. The good news is that coconut oil is one exception.
You can cream sugar and solid coconut oil like butter and shortening to create a light and tender cookie that's not cakey. For this reason, coconut oil is key in vegan cookies.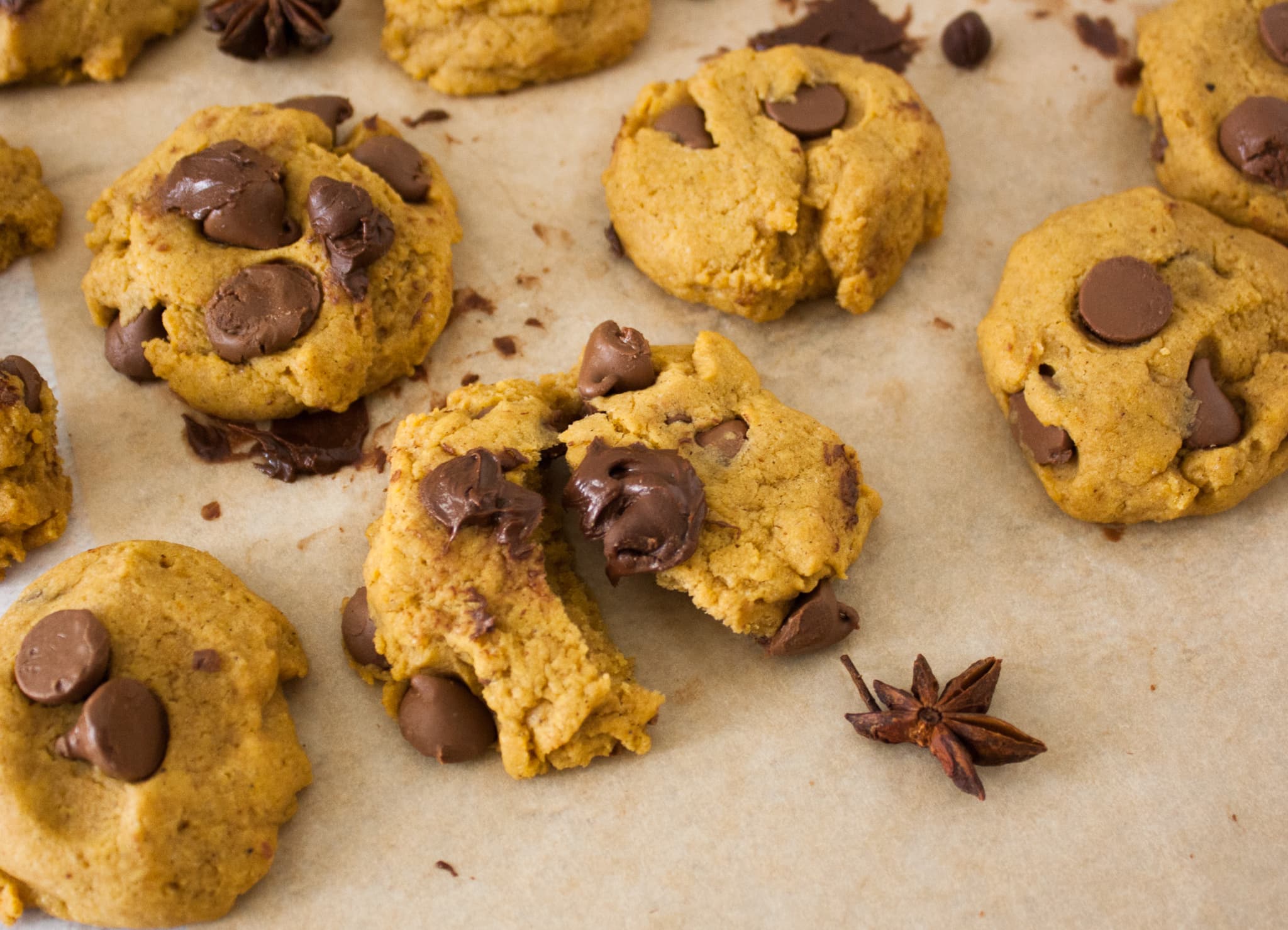 Storing Vegan Pumpkin Chocolate Chips Cookies
I don't know about you, but I love to have some baked goods on hand for desserts during the week. And this is one of the reasons why I love vegan cookies so much. I can bake them on a Sunday and know I'll have the perfect dessert for the next few days.
Plus, I feel better knowing that these healthy pumpkin chocolate chip cookies are made with wholesome, plant-based ingredients that are good for me and the environment.
This brings me to my next point. You can store these vegan pumpkin chocolate chip cookies in the pantry for 7 to 10 days or in the freezer for up to 4 to 5 months.
Other Pumpkin Recipes You'll Love
Nothing says fall quite like pumpkin. If you enjoy adding pumpkin to just about anything, then you'll love these other pumpkin-inspired recipes.
And if you're looking for even more vegan dessert recipes, check out these decadent 1-minute vegan brownie mugs.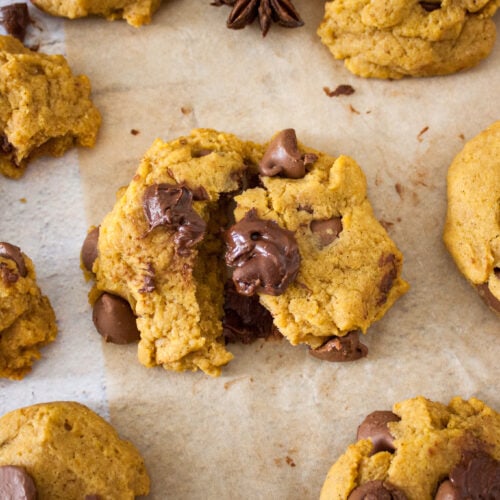 Vegan Pumpkin Chocolate Chip Cookies
These vegan pumpkin cookies with gooey chocolate chips are chewy on the outside and perfectly tender in the center. They are also packed with fall flavors thanks to the pumpkin, cinnamon, nutmeg, and cloves. Truly the perfect vegan fall dessert.
Ingredients
½

cup

coconut oil

solid

½

cup

brown sugar

½

cup

white sugar

½

cup

pumpkin puree

1

tbsp

unsweetened oat milk

or non-dairy milk of your choice

1

tsp

vanilla extract

2¼

cup

all-purpose flour

1

tsp

baking powder

1

tsp

cinnamon

¼

tsp

nutmeg

¼

tsp

ground ginger

¼

tsp

salt

⅛

tsp

ground cloves

1

cup

vegan chocolate chips
Instructions
Preheat the oven to 350°F. Line two large baking sheets with parchment paper and set aside.

Cream the solid coconut oil and both sugars in a large standing bowl mixer using the paddle attachment or with an electric hand mixer for about 2 to 3 minutes or until light and fluffy.

Add in the pumpkin puree, vanilla extract, and oat milk and beat on low speed until combined. Set aside.

Whisk the flour, baking powder, cinnamon, nutmeg, ginger, cloves, and salt in a separate large bowl.

Add the dry ingredients to the bowl with the wet ingredients and mix on low speed until just combined. The batter should be thick.

Gently fold in the vegan chocolate chips. Use a one tablespoon cookie scoop or spoon to portion out the batter onto the prepared baking sheets. Gently press down on the tops of each cookie to flatten slightly before baking.

Bake in the preheated oven for 15 to 18 minutes (closer to 15 minutes for a moist center and closer to 18 minutes for a crispier cookie).

Let cool on a wire rack for at least 15 minutes before enjoying.
Nutrition
Serving:
1
cookie
Calories:
119
kcal
Carbohydrates:
17
g
Protein:
1
g
Fat:
6
g
Saturated Fat:
4
g
Polyunsaturated Fat:
0.1
g
Monounsaturated Fat:
0.3
g
Trans Fat:
0.002
g
Sodium:
189
mg
Potassium:
14
mg
Fiber:
1
g
Sugar:
7
g
Vitamin A:
636
IU
Vitamin C:
0.2
mg
Calcium:
26
mg
Iron:
1
mg